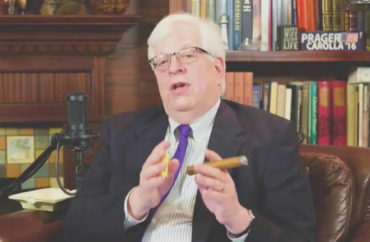 2,200 seats filled at up to $250 a pop
A couple UCLA professors tried to tank a Santa Monica symphony performance where conservative radio host Dennis Prager was scheduled to conduct, saying his "deeply bigoted views" make him unacceptable. Some city officials joined the boycott.
An occasional guest conductor for symphony orchestras in the Los Angeles area, the founder of educational video company PragerU asked his fans to show these academic crusaders that their attempt to punish his wrongthink would backfire.
And it did, spectacularly. PragerU announced Monday afternoon that the Santa Monica Symphony's performance that evening at the legendary Walt Disney Concert Hall – a fundraiser for charity, like all Prager's performances – had sold out.
The counter-petition circulated by PragerU had nearly 5,000 signatures as of Monday afternoon. It asked signatories to tell "these left-wing activists (Santa Monica city officials included) that their opposition to Dennis Prager conducting an orchestra is itself bigotry":
By the way, we're not talking about some fringe group of left-wing wackos that are going crazy in opposition to Prager. These are elected members of the city council and UCLA college professors.

Let's show them what we think about their bigotry.
MORE: Profs try to shame symphony into dumping conservative conductor
PragerU CEO Marissa Streit said in an email blast that "thousands" of Angelenos and other Americans "responded to this most recent attempt by the illiberal left to silence and demonize people who don't share their politics":
A sold-out concert means Dennis will be able to raise more money for the Santa Monica Symphony and expose more people to classical music. That is why he accepted the invitation to guest conduct the concert in the first place. Ironically, calls for a boycott have only helped the cause.
She told The College Fix that the hall has 2,200 seats and the last seven were sold Tuesday. Sadly, fans of Prager and classical music can't watch the performance from their computers: Union rules prohibit it.
Los Angeles Times columnist Michael Hiltzik wrote last week that only seven out of 77 orchestra members had refused to play – and four of the seven were the lead signatories on the anti-Prager petition.
Hiltzik was reduced to arguing baselessly that the protesting symphony members weren't really trying to "disinvite" Prager and weren't saying conservatives in general shouldn't be allowed to conduct. Read their petition and decide for yourself.
Both Hiltzik and Times music critic Mark Swed admitted that these protesting musicians might be killing the Santa Monica Symphony if they successfully forced the cancellation of the event.
The all-volunteer orchestra is in financial straits, and Prager is a huge draw who can both raise money and expose new audiences to classical music.
Perhaps these Prager fans who are paying up to $250 to see this self-taught conductor in his element will stick around for future performances and give these intolerant eggheads the opportunity to continue performing for a while longer.
MORE: 65,000 petitioners demand YouTube unblock PragerU videos
Like The College Fix on Facebook / Follow us on Twitter
IMAGE: PragerU/YouTube
Like The College Fix on Facebook / Follow us on Twitter