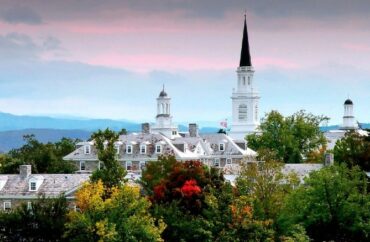 Roughly 30 students claimed the offer
Middlebury College offered students $10,000 each to take some time off.
In an effort to free up dorm space, the Vermont school offered some juniors and seniors who were planning to live on-campus a $10,000 stipend each to take a "voluntary leave of absence from the fall semester and winter term," according to a letter sent last week by administrators.
The financial incentive was part of efforts to ensure on-campus housing for the larger than usual number of students returning to Middlebury this year who had taken time off due to the pandemic.
More than 200 students will graduate in February 2024 following the school's Winter Term, more than double the usual 100.
"We have now received enough applications to reach our goal and are in the process of reviewing them to ensure eligibility," Dean of Students Derek Doucet and Associate Dean AJ Place wrote in the letter.
"Eligible students will be granted leaves on a first-come, first-served basis."
Students who took leave under the incentive will retain access to class deans, career advising and Student Financial Services, the letter stated.
The 2024 Middlebury Winter Term is scheduled from Jan. 4, 2024 through Feb. 1, 2024. Spring Term classes between Feb. 12, according to the school's Academic Calendar.
Roughly 30 students claimed the offer, Higher Ed Dive reported Aug. 2. Applications are now closed.
More broadly, persistence rates — or college first-year students returning to the school where they began their degree for their sophomore year — has returned to pre-pandemic levels, according to a July 27 report from the National Student Clearinghouse Research Center.
MORE: Please proctor our exams to prevent shameless cheating: Middlebury student op-ed
IMAGE: Middlebury College
Like The College Fix on Facebook / Follow us on Twitter