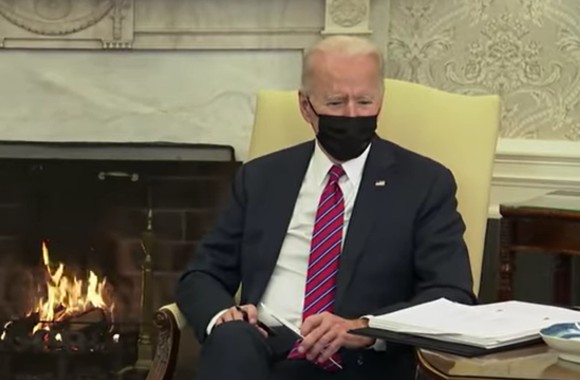 The program 'exclusively serves low-income children, primarily minority students,' says one expert
A federally-funded K-12 scholarship that thousands of low-income Washington, DC students rely on to finance their education is on the chopping block as Democratic lawmakers, with the support of President Joe Biden, propose abolishing the program in their fiscal year 2022 budget.
First established under the DC School Choice Incentive Act of 2003 with the support of Washington, DC's then-mayor Anthony Williams, a Democrat, the DC Opportunity Scholarship Program provides $17.5 Million every year to help cover the private school tuition expenses of thousands of needy District of Columbia children.
An estimated 92 percent of all scholarship recipients are Black or Hispanic. The average annual income of beneficiary families is less than $24,000.
Despite the DC Opportunity Scholarship's advertised success ― scholarship recipients attending private schools saw graduation rates 21 percentage points higher than their peers in DC public schools, according to a study by the Urban Institute ― the program has faced strong opposition from progressive legislators and policymakers for more than a decade.
Shortly after taking office in 2009, President Barack Obama, at the behest of teachers' unions, proposed defunding the DC Opportunity Scholarship in his inaugural budget. Obama again pushed to abolish the scholarship in 2012.
Both times, Obama's attempts were thwarted by a bipartisan coalition of lawmakers such as then-House Speaker John Boehner (R-Ohio), Sen. Dianne Feinstein (D-Calif.), and then-Sen. Joe Lieberman (I-Conn.).
Biden's turn to defund it
Now, the Biden Administration and its allies on Capitol Hill are resurrecting past efforts to kill the scholarship. In their spending proposal for fiscal year 2022, Democrats on the House Appropriations Committee, led by Rep. Rosa DeLauro (D-Conn.) and Rep. Mike Quigley (D-Ill.), proposed defunding the DC Opportunity Scholarship.
Acknowledging that they "expect" the White House to "phase out" the program in the upcoming fiscal year, the Democratic spending plan would continue to fund students currently paying for school with the scholarship, while allowing "no new students" to be admitted to or benefit from the program.
Democrats' renewed attempts to abolish the DC Opportunity Scholarship have drawn significant backlash, from likely and unlikely corners.
Sen. Ron Johnson (R-Wis.) introduced legislation earlier this year along with Sen. Dianne Feinstein (D-Calif.), Sen. Tim Scott (R-S.C.), and Sen. Mike Braun (R-Ind.) to permanently codify funding for the scholarship and protect it from future attempts to abolish it.
The Washington Post's editorial board excoriated the Biden Administration, House Democrats, and the District's elected non-voting Delegate Eleanor Holmes Norton for "quietly laying the groundwork to kill off this worthy program" and assailed teachers' unions for their "vendetta" against private school vouchers.
Norton, a Democrat and a vocal supporter of abolishing the scholarship, declined to provide on the record comments for this story. The College Fix also contacted DeLauro and Quigley for comment, but they did not respond by press time.
Education policy experts slam defunding attempts
Heritage Foundation Director of the Center for Education Policy Lindsey Burke told The College Fix that the Biden Administration's attempts to defund the scholarship represented the "politicization" of a "highly successful" program that "exclusively serves low-income children, primarily minority students."
Burke noted higher graduation rates of scholarship recipients in comparison with their peers, and also the low cost of doing this. The maximum annual cost of the scholarship per student, $13,700, is "less than half" of DC Public Schools annual per-pupil spending, which she said was "approaching $30,000."
Walter Blanks, spokesman for the American Federation for Children, called the attempt to defund the DC Opportunity Scholarship a "poison pill" that targets "arguably the most successful federal education program ever."
Blanks tacitly acknowledged the likelihood that the defunding measure will pass the Democratic-controlled House, by saying that his organization is "urging Senate Appropriators to ensure there is no poison pill and no report language regarding a phase out [of the scholarship]" and that they are "also urging Senators to support the full authorized spending level of $60 million for the SOAR Act," which is the bill to make the program permanent, "divided equally between the [Opportunity Scholarship Program], DC public charter and DC public schools."
MORE: Biden's free community college plan faces high price tag, other hurdles
IMAGE: The White House/YouTube
Like The College Fix on Facebook / Follow us on Twitter