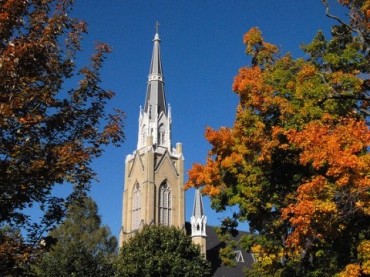 Campus Reform reports this morning that the president of Notre Dame University–a Roman Catholic Institution–has praised a newly formed Gay, Lesbian, Bi-Sexual, Transgender, and Queer (GLBTQ) student group on campus, calling it "a big step forward."
Father John Jenkins is an ordained Catholic priest, in addition to his role as president of Notre Dame.
Official doctrine of the Catholic church forbids all sexual activity outside heterosexual marriage.
"Its explicit Catholic heritage, as well as its origin and tradition as an institution of the Congregation of Holy Cross, calls the University to cultivate the love of God and of neighbor in all its members," says a statement on the university website.
(Image: NDomer73.Flickr)
Like The College Fix on Facebook / Follow us on Twitter