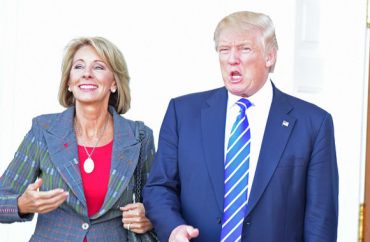 In the midst of the coronavirus crisis, President Trump announced on Friday that those with federal student loans would be able to skip payments for at least 60 days without penalty.
Mr. Trump also said standardized assessment requirements for all elementary and high school students "would not be enforced."
According to Fox News, the announcement comes on the heels of the president waiving all interest on federal student loans  just a few days earlier.
"Today, Betsy DeVos* directed federal lenders to allow borrowers to suspend their student loans and loan payments without penalty for at least the next 60 days, and if we need more we'll extend that period of time," the president said. "Borrowers should contact their lenders, but we've given them very strong instructions."
Mr. Trump noted "a lot of students will be happy" about the standardized test edict. Many teachers will be too, no doubt.
The president's announcement on student loans comes after Senate Minority Leader Chuck Schumer, D-N.Y., and other top Senate Democrats rolled out legislation that would cancel student loan payments for the duration of the coronavirus national emergency.

That plan would provide relief to federal student loan borrowers through an "immediate cancellation" of monthly student loan payments during the national emergency, and would "pay down a minimum of $10K for all federal student loan borrowers." The plan would also require Congress to authorize the Department of Education to make monthly student loan payments on behalf of borrowers, and would "guarantee" the minimum of $10,000 payoff for all borrowers.

The suspension of payments would be considered a new policy, separate from the deferment and forbearance options that currently exist for borrowers. The plan would also make all payments made by the Department of Education "tax-free" for borrowers.

It is unclear, at this point, if Schumer's legislation will be folded into the massive stimulus plan currently under negotiation on Capitol Hill.
Note that the standardized testing announcement is not a requirement. The Delaware Department of Education, for example, "is reviewing th[e] option" and noted schools will know by next week if assessments are to be administered.
MORE: Federal student loans now top $1.5 trillion
MORE: DeVos right to propose moving student loans out of DOE
IMAGE: a katz / Shutterstock.com
Like The College Fix on Facebook / Follow us on Twitter