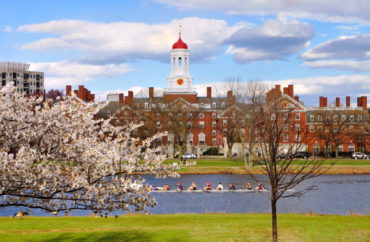 UPDATED
Funds come as schools refuse tuition refunds
The eight institutions that make up the Ivy League enjoy endowments totaling $140 billion, yet the federal government has allocated nearly $54 million to the wealthy private schools as part of the recent CARES Act.
While almost all colleges and universities nationwide will receive funds from that coronavirus relief bill passed in March by Congress, the Ivy League schools will be allocated funds that amount to about less than one tenth of one percent of each school's total endowment.
The CARES Act of 2020 directed the Department of Education to distribute $12.56 billion in emergency aid to institutions of higher education across the nation after they shut down most of campus life and sent students home amid the COVID-19 pandemic to resume schooling online.
When it comes to the Ivy League — Harvard, Yale, Princeton, Brown, Cornell, Penn, Columbia and Dartmouth — all eight schools have moved most of their operations online and have no plans to refund tuition dollars with their own coffers.
The average annual cost of tuition and fees at an Ivy League university is about $53,000.
According to an April 9 memo from the DOE, at least 50 percent of the funding colleges and universities will receive from the act "must be reserved to provide students with emergency financial aid grants to help cover expenses related to the disruption of campus operations due to coronavirus," with campus administrators allowed to determine their own systems for how to dole out the funds, "which may include distributing the funds to all students or only to students who demonstrate significant need."
The remaining funding is reserved for "institutional use," and the department is expected to provide more details in the days and weeks to come on spending guidelines, the memo states.
Harvard University boasts a $40.9 billion endowment, and is set to receive more than $8.6 million in funding from the Department of Education as part of the act.
The $8.6 million allocation amounts to just over 0.02 percent of the school's total endowment, a fraction similar to other Ivy League schools. The storied Massachusetts institution has a student body size of 20,739 and charges $51,925 in annual tuition and fees, according to U.S. News & World Report.
According to the act, the allocation amounts for campuses nationwide were based on a formula that factored in the number of students receiving Pell Grants at each school.
In an email to The College Fix Department of Education press secretary Angela Morabito said that "Congress set the funding formula, which allocates money to all institutions based on their enrollment" and that "Secretary [Betsy] DeVos* shares the concern that sending millions to schools with significant endowments is a poor use of taxpayer money."
"In her letter to college and university presidents, Secretary DeVos asked them to determine if their institutions actually need the money and, if not, to send unneeded CARES Act funds to schools in need in their state or region." Morabito said. "We hope that the presidents of these schools will take the Secretary's advice and direct CARES Act funds to students in need, no matter where those students are enrolled."
While Harvard has the largest endowment among the eight Ivy League schools, the largest allocation from the Department of Education belonged to Cornell University, which has a $7.3 billion endowment and will receive $12.8 million in relief funds.
The Cornell allocation will amount to 0.1 percent of the school's total endowment. The school charges $57,222 in tuition and fees and has a student population of 23,600, per U.S. News & World Report.
Brown University's allocation is also 0.1 percent of its $4.2 billion endowment, for an amount of $4.8 million in relief funds. Its 10,257 students pay $58,504 in tuition and fees each year.
With the second largest endowment among Ivy League schools, Yale is set to receive $6.9 million in relief funds, .02 percent of its $30.31 billion endowment, making its allocation from the Department of Education similar to that of Harvard. Yale charges its 13,433 students $55,500 in tuition and fees.
The smallest allocation will go to New Jersey's Princeton University, which boasts a $26.1 billion endowment but received only $2.4 million in relief funds, just shy of 0.01 percent of the school's endowment.
The New Jersey university charges $51,870 in tuition and fees per student, and has a student body of 8,734.
Columbia University charges $61,850 in tuition and fees to its 26,338 students and has a $10.9 billion endowment. The Department of Education allocated the school $4.4 million in coronavirus relief funds, representing 0.04 percent of the school's total endowment.
The allocations to Dartmouth College and the University of Pennsylvania amounted to 0.06 percent of their respective endowments.
Dartmouth has an endowment of $5.7 billion, the second smallest among the Ivy League schools. Penn's endowment is $14.65 billion, the fourth largest among the eight schools.
Dartmouth will receive $3.4 million in coronavirus relief funds, while Penn will get $9.9 million. Penn's 22,376 students pay $57,770 in tuition and fees, while Dartmouth's 6,571 pay $57,204 in tuition and fees.
UPDATE: A statement from the Department of Education has been added.
MORE: Social media app touts anonymity as 'essential' to fostering free speech
IMAGE: Jorge Salcedo / Shutterstock
Like The College Fix on Facebook / Follow us on Twitter