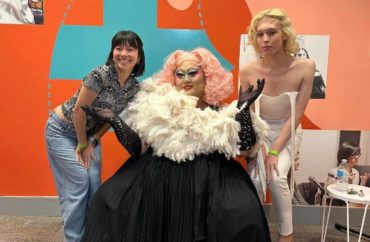 'I'm a woman right now, and in about two hours, I will be a full man,' drag performer said
Princeton University's annual drag performance on April 29 featured student and guest performances promoting gender fluidity, masturbation and abortion.
The school's Gender and Sexuality Resource Center and the Princeton Pride Alliance sponsored the event. Abigail Anthony, a Princeton senior, reported on-site for National Review. Anthony is a contributor to The College Fix.
Kim Chi (pictured, center), a drag performer and former contestant on the television show "RuPaul's Drag Race," headlined the performance.
"Gender is a construct. I'm a woman right now, and in about two hours, I will be a full man," drag participant Rhedd Rhumm said, according to National Review.
"We're all adults here, so we can talk about sex in a non-judgemental, non-shameful manner, correct?" Rhumm said. Rhumm works by day as an educator for sexual and LGBTQ health care.
"So, abortion care is very, very important because not only can women get pregnant, not only can cis[gender] women get pregnant, but non-binary individuals can get pregnant as well, as well as trans-masc[uline] individuals, and anybody that falls between that has the capability of getting pregnant," Rhumm said.
"One more thing, if you enjoy masturbation, let me tell you something, masturbation is self-care," Rhumm said. "I don't care what anybody says…That is the act of loving yourself. . . enjoying your time with yourself, putting yourself in the mindset, putting yourself in the mood, getting yourself there, getting yourself to a point of pleasure when you just feel amazing."
"We love masturbation, correct?" Rhumm also asked the audience, which "cheered."
Attendees numbered approximately 100 and included students, faculty and staff.
Additional performers included the drag queen Vanity Ray, who uses the tagline "the nicest narcissist you'll ever meet," drag queen Victoria Courtez, and drag king Maxxx Pleasure.
An undergraduate senior, stage name "Rosa Garnette Quartz," joined the drag ensemble. Quartz produced a small inflatable male doll dummy in a performance set to music and pretended to disembowel it when the song said "spill your guts on the floor."
Someone asked Quartz the name of the doll.
"I've been calling him 'the motherf***er' this entire time," the student responded.
MORE: University hit with First Amendment lawsuit for canceling drag show
IMAGE: Princeton Gender + Sexuality Resource Center
Like The College Fix on Facebook / Follow us on Twitter