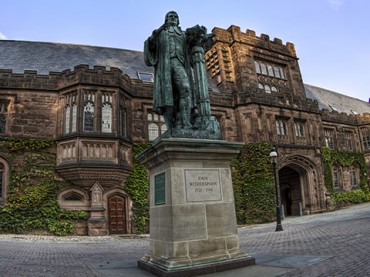 Princeton students could be assigned to residential housing based in part on "sensitivity to socioeconomic diversity," under recommendations from a university working group on undergraduate socioeconomic diversity, Princeton said in a press release last week.
The working group also recommended including socioeconomic diversity in "freshman orientation diversity programming" and highlighting current courses that "address issues concerning social and economic inequality."
As for what that means in practice, Princeton isn't talking.
The working group, consisting of five faculty members and six administrators appointed by President Shirley Tilghman, found that Princeton's admission and financial aid policies let students "participate fully" in academic and residential life. It said lower-income students "participate in programs and access services to the same degree" as higher-income peers and have "comparable" academic results, according to the release.
But the university refused to release the full report or even confirm the working group developed more than the set of bullet points listed in Princeton's press release.
That makes it difficult to evaluate what exactly the group proposed – a new minimum threshold of poorer students living in the same halls or floors with richer students, for example – or whether its recommendations will be fleshed out behind closed doors by officials.
Princeton's statement provides five categories of bullet points: academic achievement and "curricular obstacles";  science, technology, engineering and math;  centralizing resources and coordinating partnerships;  campus culture;  and the gap between Princeton and "home communities."
Working group chair and Dean of the College Valerie Smith, who is listed as the contact for "questions about the recommendations," deferred questions to a university spokesperson, who referred The College Fix to the press release.
Asked for a copy of the full report, the spokesman said, "There are no additional documents for distribution."
Other officials did not respond to requests for elaboration on how the recommendations would be implemented or what their benefit would be, including committee members Cecilia Rouse, dean of Princeton's public affairs school, and Douglas Massey, director of the Office of Population Research.
Some of the recommendations are commonly proposed solutions across the Ivy League, including developing outreach and mentoring programs to low-income students and hosting events in major cities for families parents who have difficulty traveling to campus. 
As for the group's recommended highlighting of courses that showcase social and economic inequality, the university catalog lists classes including "Economic Perspective in Inequality," "Psychological Studies of Inequality" and "Economics and Ethics: Social Justice and Policy."
Such efforts to focus on socioeconomic diversity are part of the larger menagerie of diversity, inclusiveness and multiculturalism, which is spreading across college campuses.
Duke University undertook a similar fact-finding mission in 2009, interviewing 71 students in depth, and published a report in 2012 intended to measure and improve socioeconomic diversity on campus.
That report found that where students ate signaled their family's wealth, and recommended the school work with Residence Life to develop more equitable dining options.
Yet Duke seems to be one of the less activist schools in undertaking socioeconomic diversity efforts. Stephen Nowicki, dean and vice provost for undergraduate education, told The College Fix in an e-mailed statement that Duke does not "have any particular mechanism for arranging socioeconomic diversity in housing."
And while there are "dozens of courses offered at Duke that address the topic of socioeconomic diversity," Nowicki said Duke does not label them nor require courses to include socioeconomic diversity.
Amherst College boasts of its geographic, socioeconomic, racial and academic diversity as well.
For example, Amherst offered a freshman seminar in fall 2013 and 2014 titled "Representing Equality" in which students learned about different disparities, such as "ethnic, gender, and economic inequality."
Students are also learning about socioeconomic diversity outside university-approved efforts.
A Facebook page for University of Chicago students, UChicago Class Confessions, allows students to anonymously describe their problems related to the wealth or poverty of their family.
"I have a full ride but am coming from out of state," one student wrote Aug. 8. "That means I can't help support my family, like I currently do, while I'm away. … But is it really worth it to put my family in a precarious financial position just so I can get the name-brand education, when I could just as easily get a good – not as fancy – education at home?"
College Fix reporter Matt Lamb is a student at Loyola University-Chicago.
Like The College Fix on Facebook / Follow us on Twitter
IMAGE: Kah-Wai Lin/Flickr