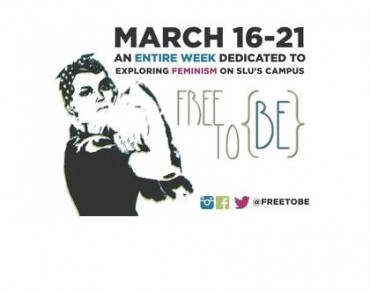 Event funded by the university's student government association
A pro-choice, pro-LGBT activist whose website glorifies abortion doctors as "heroes" and offers tutorials on transsexual sex is set to headline a feminism week observance at Saint Louis University, a controversial decision organizers are defending as in line with the college's Catholic identity.
But the controversial keynote speaker for the "Free To Be" feminism week, which launches Monday, is also under fire because the weeklong observance comes after a group of students complained about a Christian sexual purity conference held at the university in January.
At issue is the pending appearance of Sandra Kim, founder of the online magazine Everyday Feminism. Kim's speech comes two months after students issued a list of demands to the university's administration after taking offense at the "Taboo" conference hosted on campus that advocated for traditional marriage.
The Catholic university appeased those demands, promising funding for "a program promoting diversity and inclusion" to offset the conservative conference.
Kim was selected by student organizers to headline Free To Be, sponsored by the university with funding from the student government's coffers. The main lecture she is set to give is titled "Self-Love and Social Justice: Why they're Interdependent and How to Do it." It's slated for Monday.
Renee Richter, one of three student organizers of the feminism week, told The College Fix that Kim was an appealing candidate since all three "enjoy reading" Everyday Feminism.
"(Everyday Feminism) offers lots of different speakers, and we thought Sandra was most appealing because she understood what we were trying to do," Richter said. "She aligned with what we are advocating for, which is loving yourself."
Everyday Feminism's website describes itself as a magazine to "help people heal from and stand up to everyday violence, discrimination, and marginalization through applied intersectional feminism."
Its website includes tabs that link to articles on sex, self-worth, LGBTQIA, and race, among other topics. Past articles have included extreme and radical views on pro-choice and pro-LGBT issues.
An article from June 2014 entitled "The Truth Behind Late-Term Abortions" glorifies abortion doctors as "heroes," calling for "new, brave doctors to take their place." The article contends that late-term abortions are misunderstood by the media and society, arguing "they save lives."
Included under the website's LGBTQIA tab are articles that include sex tips, with titles like "Your First Time: A Sexual Guide for Trans Men" and "8 Tips on Respectfully Talking Pleasure, Sex, and Bodies With Your Trans Lover."
Richter acknowledged to The College Fix that Kim's website touches on "controversial topics," but said the week is instead meant to "highlighting feminism at its core, which promotes the equality of all people."
"[W]e are not highlighting Everyday Feminism; we are simply bringing in a speaker who has worked hard to be the CEO of said company and who we believe best expresses what feminism is and can inspire others to be," Richter said.
Richter confirmed to The Fix that Kim will be paid an appearance fee for her lecture with the funds it received from the SLU's student government. Richter suggested Kim's speech will be limited to the topics of self-love, self-acceptance, and social justice, which she argued "do not contradict Catholic teachings, but are pivotal to Catholic social teaching and creating an ideal Christian community."
But SLU Senior Bethany Glock, who helped organize the sexual purity conference, told The College Fix she sees an irony in the university allowing Kim to speak after it shunned a conference in line with Catholic values. Glock, also a member of SLU students for Life, added that the very presence of Kim on SLU's campus sets "a bad precedent."
"Whether or not she expresses her pro-choice views at SLU does not change the fact that funds from a Roman Catholic university are going to an overtly pro-choice and pro-LGBT organization," Glock said. "I am not as concerned about what she says as I am about who is paying for her to come and say it."
Glock said she still has worries given Kim's speech and the backlash from the "Taboo" Conference.
"I think SLU really needs to take some time to consider what it means to be a Catholic, Jesuit university," she said. "Can this institution really continue to use those adjectives to describe itself when it regularly and blatantly undermines them both?"
College Fix reporter Nathan Rubbelke is a student at Saint Louis University.
Like The College Fix on Facebook / Follow us on Twitter