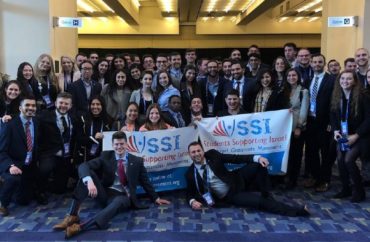 The group has spread to 200 campuses in four countries
Students Supporting Israel is looking forward to the upcoming school year, its 10th year in existence since being formed in 2012.
The national pro-Israel student group will hold its 6th national conference in Atlanta this August and plans to train 100 activists. SSI is an "independent, nonpartisan, grassroots campus movement that was created by students, for students, in order to organize a strong and united pro-Israel front on college campuses," according to the organization's website.
SSI president and co-founder Ilan Sinelnikov previewed the conference in a July 6 email to The College Fix.
"In the past SSI hosted 2 conferences in Minneapolis, 2 conferences in San Diego, our conference at Columbia University one of the most hostile environments for Israel in the country in December of 2019, and for the first time in Georgia," Sinelnikov said in his email.
The Atlanta conference will not only celebrate the 10 years of activism, but the "nearly 200 college campuses and universities in the USA, Canada, Argentina, and Israel."
Sinelnikov expressed his hope that the conference would offer an in-person opportunity for students who had to work virtually on activism efforts throughout the pandemic.
"The expectations are to come back together for the first time and provide the grassroots activism opportunities to students who did most of their advocacy work online since they started college," Sinelnikov said. "Finally, we can return back to normal."
The Fix also asked who the scheduled speakers were and what issues would be discussed.
He said that "due to security reasons we don't publish the speakers list to the public."
He then referred The Fix to two videos created for the SSI conference by pro-Israel figures.
In one video, Chairman of the World Zionist Organization Yaakov Hagoal encouraged the organization to continue its activism efforts.
"Keep working. Here in Israel we need your help," Hagoal said in the video.
In the other video, social media personality Hananya Naftal, who according to Sinelnikov has an online following of over 2 million confirmed he would be attending the conference.
Regarding the issues that will be discussed at the conference, Sinelnikov stated that "one of the topics [the conference] will focus on is [SSI's] Palestinian Apartheid Week campaign."
According to SSI's website, the purpose of the campaign is to draw attention to antisemitism and Palestine's discriminatory actions against Jewish people.
"For the first time ever on campuses, [SSI's] movement will be highlighting the apartheid policies of the Palestinian government, including the systemic ethnic discrimination against Jews in Palestinian-controlled territories," the website stated.
MORE: DEI has been 'weaponized' against Jewish student, Israel activist warns
IMAGE: Students Supporting Israel
Like The College Fix on Facebook / Follow us on Twitter