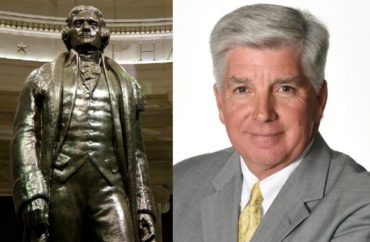 He previously urged a fight against the 'entrenched DEI bureaucracy'
Numerous attempts to cancel a conservative nominee for the University of Virginia board of trustees have officially failed.
A joint resolution in the state legislature passed on Feb. 9 which officially confirmed Bert Ellis, a nominee of Governor Glenn Youngkin, to the university's Board of Visitors.
A week prior, the editorial board of the campus newspaper said that the university "deserve[s] better" than Ellis (pictured).
The Cavalier Daily board wrote on Jan. 28:
Student and faculty leaders — such as the Student Council Executive Board, Student Council representative body, University Democrats and Faculty Senate — have remained consistent in their opposition to Ellis' appointment. This community demands better. We, the 133rd and 134th Editorial Boards of The Cavalier Daily, call on our state senators to refuse the appointment of Bert Ellis Jr.
The newspaper criticized Ellis for his actions as a student in the 1970s, which included inviting a controversial eugenicist to campus and blocking a "gay rights activist" from speaking.
The editorial also criticized Ellis for his role in the Jefferson Council, a group of UVA alumni "dedicated to preserving the legacy of Thomas Jefferson, the Lawn, the Honor Code, and the intellectual diversity one would expect from Mr. Jefferson's university," according to its website.
In December 2021, prior to his nomination, Ellis wrote that Youngkin should use his power to appoint UVA trustees to battle wokeness.
He wrote:
Governor Youngkin can and will appoint new Board members that reverse this and make the University a place permitting open dialogue on all matters and where education and merit are the managing principles of the University. This is our only opportunity to change/reverse the path to Wokeness that has overtaken our entire University.

Meanwhile, we still have a ton of work to fight the ongoing and continuing onslaught by the entrenched DEI bureaucracy at UVA.
Ellis is an entrepreneur and investor who runs his own investment company. He holds two degrees from UVA and has served on the boards of multiple corporations, according to his bio on his company website.
MORE: UVA student paper demands removal of all things Thomas Jefferson
IMAGES: EllisCapital; LoKinHei/Shutterstock
Like The College Fix on Facebook / Follow us on Twitter