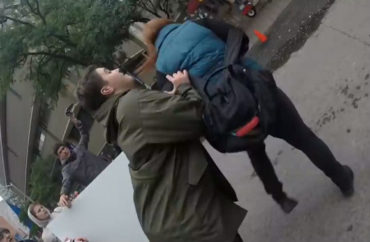 Pro-choice group has been previously cited by university for violence?
The internet was riveted recently when a bearded young pro-choice activist roundhouse-kicked a female pro-life activist, who recorded the attack.
Jordan Hunt has been charged by Toronto police in not only that incident, but an earlier reported assault of a pro-life activist, according to Law & Crime.
A second apparent assault by a pro-choice activist has been captured by another Canadian pro-life group, and they allege the assailant is a Ryerson University employee.
Global News reports that Toronto Police are investigating the incident, which took place just a day after Hunt's roundhouse kick.
Toronto Against Abortion posted a video showing the attack in the middle of discussion between pro-life and pro-choice activists near Ryerson.
The attacker kicked a sign that TAA member Blaise Alleyne was holding and then threw a dolly and shoved his peer Katie Somers. The attacker reached into Somers' backpack, pulled out what appears to be a metal canteen and thew it down before continuing to shove Somers.
An unidentified person says "Gabby" several times as the attacker goes after Somers and then chest-bumps the person shooting the video.
TAA identified the attacker as Gabriela Skwarko, a Ryerson student who works in the university's Office of Social Innovation. Her LinkedIn page identifies her as a current volunteer for the Ryerson Reproductive Justice Collective, a pro-choice group. She ensures "student safety" on campus.
Skwarko also served as faculty of arts director for the Ryerson Students' Union for the previous academic year.
In a TAA blog post last week, Alleyne said Somers received leg bruises in the attack:
Free speech is under serious threat in Ontario, and especially at Ryerson, where people are being assaulted for peacefully and civilly sharing their beliefs. While we are always peaceful and civil, we face violence and illegal activity often at Ryerson. This is one of many incidents our Ryerson Team has had to endure over the past two years from the student unions and the Reproductive Justice Collective.
Somers told Global News that Skwarko's group has been previously cited by the Ryerson administration for conduct violations "because of violence at anti-abortion rallies." One allegedly happened in March, Somers said, showing a "brief video of that scuffle."
The Ryerson Reproductive Justice Collective told Global News that it was actually TAA that had "assaulted us multiple times," but didn't provide evidence.
The pro-choice group's Facebook page appears to have been removed, and its Twitter feed has not been updated in nearly a year. A website with the same name as its Twitter handle, which displays prominently in search results, redirects to the TAA website.
Ryerson media relations did not immediately respond to a Fix email Thursday asking to confirm that Skwarko has been identified as the attacker in the video, and that her pro-choice group has been cited for conduct violations owing to violence. Skwarko did not immediately respond to an email.
YouTube required The Fix to sign in to watch the video, saying it "may be inappropriate" for young users.
Read the Global News report and TAA post.
IMAGE: Toronto Against Abortion
Like The College Fix on Facebook / Follow us on Twitter