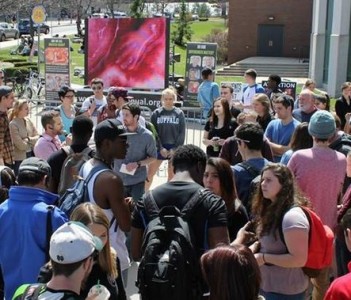 Activist: 'We have had students go from pro-choice to pro-life on the spot'
The pro-life group Created Equal has initiated a Jumbotron campaign at college campuses that broadcasts a graphic video showing first-, second-, and third-trimester abortions, a video that includes some still images and is played on a loop for an entire day at each campus it visits.
Although the aggressive tactic has been met with some resistance at the five colleges the Jumbotron has visited so far, the group's leaders stand by their efforts.
"If showing the dismemberment, decapitation, and disemboweling of another human doesn't change a person's mind, then the problem is not the tactic but the lack of a functioning conscience," Mark Harrington, founder and CEO of Created Equal, told The College Fix in an email interview. "The fact is, no one has ever been successful in outlawing injustice by covering it up."
Over the past school year, the large Jumbotron has visited five colleges: Ohio State University, Columbus State Community College, University of South Florida, University of Florida, and the University of Buffalo.
Harrington said the campaign strives "to stimulate debate on abortion with our target audience: those who are most likely to commit abortions…and those who will become our nation's leaders and decision-makers."
"Our goal is to make abortion unthinkable," he said. "Once abortion becomes unthinkable, then it will become unlawful."
The campaign has been met with notable criticism.
At the University of Florida, pro-abortion students were disrespectful and rude and made obscene gestures and signs. At OSU, a protestor attempted to unplug the Jumbotron and was subsequently arrested for interfering with an investigation of a crime.
At the University of Buffalo, the display prompted a counter-protest allegedly larger than the pro-life display that included students holding posters with puppies and kittens and phrases such as "avert your eyes to me," The Spectrum campus newspaper reports.
"Students that aren't pro-life really don't want to see this," student Eric Chambers told The Spectrum. "[The anti-abortion protestors']
freedom of speech shouldn't be limited, but putting it in a place that's the capital of campus where people eat and meet up is just wrong. People shouldn't have a dead baby shoved in their face."
But not all students are upset by the display.
Hannah Saucedo, president of Bulls4Life at the University of South Florida, said student reaction was mixed when the Jumbrotron visited her campus. Despite the fact that some students at USF opposed the video, Saucedo told The College Fix her group supported it.
"Members of Bulls4Life often stand with Created Equal when they are on our campus," she stated in an email.
Harrington said most students are willing to engage in debate about abortion, but acknowledged the video would likely not sway hardcore abortion advocates.
"Our exhibit is aimed at reaching the undecided or those who are pro-choice by default and have not reached a well-informed position on abortion," he said. "We have had students break down and cry as they watched the video. We have had students go from pro-choice to pro-life on the spot."
He also told The Fix not one university has refused to permit Created Equal's display.
"Our team of attorneys are ready to sue, if needed, to protect our rights to display abortion victim imagery on campus," he said. "Unless these universities want to lose a civil rights lawsuit, they won't infringe upon our First Amendment rights."
In addition, some in the pro-life movement itself have opposed the graphic imagery used by Created Equal.
"Some in our movement are reluctant to utilize abortion victim images and video for various reasons, the least of which is whether or not they are effective," Harrington said, ascribing this hesitance to a desire not to upset people.
"History tells us that social reformers who are liked are rarely effective and those who are effective are rarely liked," Harrington said. "We would rather be effective, and if we are disliked, that is a trade-off we are willing to accept."
College Fix reporter Alexandra DeSanctis is a student at the University of Notre Dame.
Like The College Fix on Facebook / Follow us on Twitter
IMAGES: Created Equal