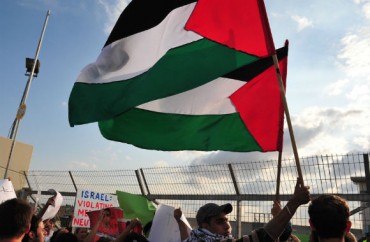 University: Assignment changed to offer more options after admin found out
A University of California Berkeley instructor offered her students extra credit this week to attend an anti-Israel protest against "the settler-colonial occupation of Gaza."
The group Stop Antisemitism and others shared screenshots on X of the Tuesday email from instructor Victoria Huynh to her ethnic studies class about the five extra credit points students could earn by going to the protest.
The event, described as a "national walkout against genocide, settler-colonialism and the siege on Gaza," was scheduled for Wednesday afternoon at the Sproul Plaza on campus, according to the screenshots.
Huynh, a graduate student, also offered her undergraduate students the option of watching "a short documentary about Palestine" and then contacting their local California representative for extra credit, according to the screenshots.
Andy Ngo, senior editor at The Post Millennial, described Huynh as a "radicalizer" in response to the class assignment. According Ngo's research, shared on X, Huynh describes herself as a "social justice educator" and a "DEI consultant" who uses she/her pronouns.
UC Berkeley responded Wednesday, telling Newsweek the assignment was changed as soon as administrators became aware of it.
"The situation has been remedied, the assignment has been changed and there are now a number of options for extra credit, not just one," the spokesperson told the news outlet.
The extra credit assignment captured widespread attention online, including from David Decosimo, a philosophy professor at Boston University, who said it "epitomizes the ideological corruption" in higher education.
"Don't attack this PhD student. It's not about her & that misses the entire point!" Decosimo wrote on X. "It's about entire fields of study & departments where this sort of outrageously partisan behavior & explicitly leftist activism is the unquestionable norm, universal expectation, & assumed baseline."
Princeton University Professor Robert P. George, a renowned conservative, made a similar comment, saying academia "across the ideological spectrum" should agree not to offer extra credit for any kind of activism.
"Such nonsense is both cause and effect of the politicization of colleges and universities. That politicization is toxic to the academic mission," George wrote on X.
MORE: Universities denied grieving Jewish students accommodations: civil rights organization
Last chance to support student journalists during our Back to School fundraising campaign! We're very close to our goal of $25,000. The deadline for the matching offer is quickly approaching so please donate by Oct. 31 to help us meet the goal. Thank you!
IMAGE: ChameleonsEye/Shutterstock
Like The College Fix on Facebook / Follow us on Twitter