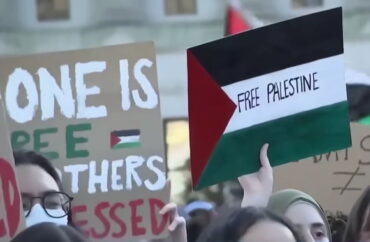 Protesters demand college divest from 'Israeli apartheid'
Police arrested two pro-Palestinian students for criminal trespassing at Dartmouth College early Saturday after administrators reported receiving a threat.
The students, Roan Wade and Kevin Engel, allegedly erected a tent on the lawn in front of Parkhurst Hall in violation of a college policy that forbids the overnight use of grounds and non-residential facilities, The Dartmouth Review reports.
Two students, believed to be Wade and Engel, also threatened to "escalate" and take "physical action" against administrators in a document titled the "Dartmouth New Deal," according to the report.
Among other things, the document demands the school collaborate with students from the Palestine Solidarity Coalition and divest from "Israeli apartheid."
"You have until the first day of the winter term to publicly address our demands and outline a plan to meet them. If you fail to do so, we will escalate and take further action," the document states.
Responding Saturday, Dartmouth President Sian Leah Beilock told the campus community in an email that its Safety and Security office is required to interpret "physical action" as a violent threat.
Beilock said campus leaders spent six hours trying to "deescalate" the situation before contacting the local police department, which later arrested Wade and Engel.
In a video posted on X by the student newspaper, one of the students can be heard singing, "Rise up" and "They try to stop us, but we keep coming back," as police arrest him.
The Dartmouth Review editors pushed back against claims the administration was violating students' free speech by having the two students arrested, noting how the leaders have allowed pro-Palestinian students to protest freely and peacefully for more than a week on campus.
"In fact, the Administration's handling of the protest demonstrates President Beilock's commitment to free speech—provided it remains speech," they wrote. "We at The Review applaud the Administration's response to the threats of violence, and we endorse the president's efforts to ensure that protest and dialogue at this institution remain peaceful."
All across the U.S., college campuses have become the scenes of pro-Palestinian protests and antisemitism since the Oct. 7 Hamas terrorist attack on Israel.
At Tulane University last week, a pro-Palestinian protest turned violent and three students were assaulted, The College Fix reported.
During another protest earlier this month, a Cornell University professor described the attacks — which killed more than 1,200 civilians, including children — as "exhilarating" and "energizing." Some student groups also have blamed Israel for the terrorism.
MORE: Jewish student's door set on fire in wake of Hamas attack
IMAGE: Pro-Palestinian rally/YouTube
Like The College Fix on Facebook / Follow us on Twitter