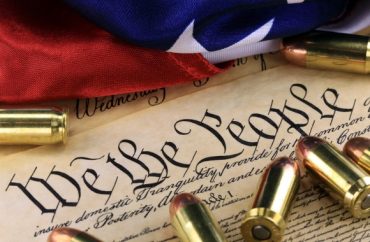 In response to an appearance by anti-gun activist and soon-to-be Harvard student David Hogg, pro-Second Amendment students at Penn State University put together a march for their own cause on January 18.
Dubbed "Come and Take It" and organized by the PSU College Republicans' Aidan Mattis, the march included demonstrators who carried American flags and signs which read "If gun-free zones work, how come 98% of mass shootings happen in gun free zones?" and "Gun rights are women's rights."
According to the Daily Collegian, Mattis said he organized the protest "partially [because] of Hogg's opinions and partially [due to] the Student Programming Association's absolute refusal to ever bring a conservative to speak."
Mattis is also the president of the campus chapter of Young Americans for Liberty.
The march attracted counter-protesters, some of whom interrupted Mattis when he was speaking to the crowd. One, PSU student Callie Maier, said she "felt the need" to attend this protest in particular: "I felt like it was my duty to point out that life is more important than guns," she said.
Maier and others felt the pro-gun marchers were "insensitive" to Hogg and his efforts:
Maier felt the way the protesters were going about the issue was insensitive to Hogg, who has experienced gun violence firsthand.

Another student present, Nakola Sheppard, expressed similar sentiments to Maier in terms of being more sensitive to Hogg's experience.

"I'm not mad at them, and I'm trying to understand where they're coming from, but I think its the wrong place wrong time," Sheppard said. "[The protesters] are taking a stance against a person who lived through something they have probably never experienced before. You will never understand the pain that [Hogg] lived through in those moments."

Mattis responded to the statements from counter protesters by saying he is not surprised by the outrage, but that without Hogg's presence on campus, he doesn't think the protest would have gotten the same amount of attention.
The pro-gun marchers originally planned to carry unloaded guns with them, but ultimately decided against it because, as Mattis said, "We felt that some people were missing the forest for the trees [and] seeing only the guns.
"We wanted them to see what it was really about, which is the right to bear arms and to resist tyranny — not to scare a bunch of people."
MORE: History professor calls for repeal of Second Amendment
MORE: Progressives' contemporary cognitive dissonance on the Second Amendment
IMAGE: Shutterstock.com
Like The College Fix on Facebook / Follow us on Twitter