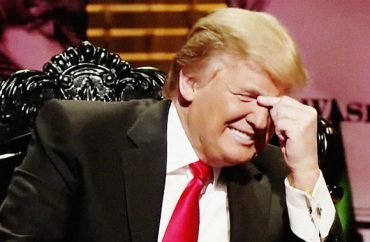 It seems that even a book about our current president whose audience is children barely of school age must indulge the "Resistance," else the social justice warrior crowd will get its collective panties in a bunch.
According to various leftist teachers, parents, and other assorted progressives, the book "President Donald Trump" distributed by Scholastic "glosses over his racism, misogyny, xenophobia, and treatment of workers."
The book is for first and second graders.
ThinkProgress reports the "social justice and education-focused" Teaching for Change wrote a review of the book over weekend which asked Scholastic to "distribute books that 'affirm the identity, history, and lives of ALL children in our schools.'"
Social Justice Books, an arm of Teaching for Change, complains "President Donald Trump" is "anything but neutral":
Our concern with the text is not the accuracy of the statements and events included, but rather with the extensive omissions that undermine a truthful, nuanced, and informative account. These partial truths construct a false narrative. Scrubbing away any trace of complexity or nuance from an account about an elected official stunts the quintessential democratic freedom and responsibility of questioning and critiquing those in positions of power. We find this book to be dangerous from a democratic standpoint.
"Perhaps words like Islamophobia, xenophobia, and misogyny are too complicated for first and second graders," reviewers Kathleen Nganga and Sarah Cornelius say, "but the concepts of exclusion and unfair treatment are certainly within reach."
Furthermore, the book not only fails to visually feature people of color or those with other marginalized identities who were attacked and denigrated by Trump during the campaign, but also effectively silences their voices by repeatedly excluding their narratives and perspectives from the text. [Book author Joanne] Mattern's description of the 2016 presidential election demonstrates this. She writes:

On November 8, 2016, Americans voted for president. The race was close, but Trump won. Many people were happy. They looked forward to a brand-new government. They hoped for a stronger country.

While this passage acknowledges the outlook of those who were satisfied with the outcome of the election, it silences voices of dissent, ignores acts of resistance, and, crucially, excludes any reference to the words and deeds of racism, xenophobia, Islamophobia, and misogyny that have defined Trump's campaign and presidency. By omitting the feelings, opinions, perspectives, and actions of those dismayed, alarmed, and activated by Trump's election, the book misses a critical opportunity to engage young readers with important discussions of elections as well as democratic forms of participation beyond the ballot.
Nganga and Cornelius do state that no matter who the person is, "uncomplicated glory stories of public leaders" should be avoided.
Interestingly, a search of Scholastic's website turns up the book "Who Is Barack Obama?" for children in grades 3-8. Several Amazon.com reviews of this book feature comments like a nine-year-old's "Someone wrote this who obviously liked Barak Obama" and "While this book may be an easy read for young children, it is inappropriate and 100% biased politically and is introducing young children to the fantasy world of lies about who this man is and how he came to be."
A search of Social Justice Books' site reveals no critical articles of this book, the intended audience of which would be better equipped to handle a more in-depth examination of political issues.
Think Progress's report highlights various critical tweets about the Trump book, such as:
"If you continue to publish this piece of propaganda, you can kiss all book club and book fair purchases I planned to make this upcoming school year goodbye" (link)
and
"Hello @Scholastic. I want to commend you on expanding the vocabularies of your young readers, with words like: paedophile, rapist, wife-beater, Nazi" (link).
So, I run the Book Fair at my nine year old's school. I will not continue to do so if this the type of book that @Scholastic stands behind. #StepUpScholastic

Scholastic Tells Children: Trump is Great https://t.co/PllPQHYJEH

— 💀Kelly J. Baker💀 (@kelly_j_baker) June 11, 2018
Read the full ThinkProgress and Social Justice Books pieces.
MORE: School mural depicts Trump's severed head impaled by spear
MORE: School fundraiser: Toss beanbags at President Trump's tombstone
IMAGE: YouTube
Like The College Fix on Facebook / Follow us on Twitter