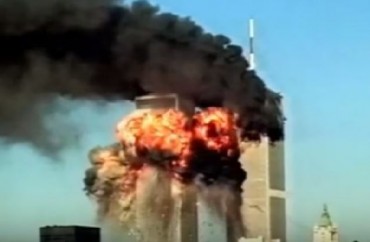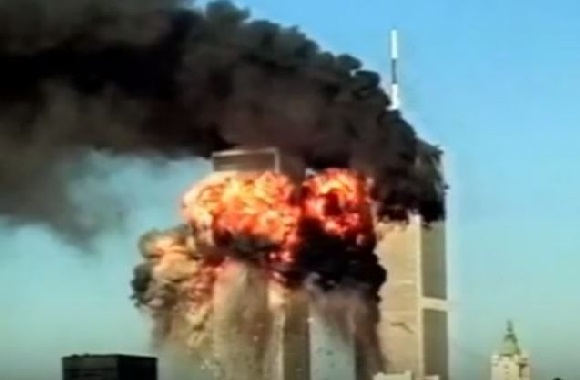 A recent webinar published by the Virginia Department of Education on "culturally responsive and inclusive" teaching about the 20th anniversary of the 9/11 attacks instructs educators not to bring up Muslim terrorism in discussions.
However, racism against Muslims should be talked about as part of classroom discussions that day.
That according to scholar Amaarah DeCuir, a lecturer with American University's School of Education, who stated in the training session that the "false assumption of Muslim responsibility for 9/11" is out.
"We're just going to begin right there and say there is no responsibility, and therefore we're not going to use this space to try and untangle that," she said.
According to DeCuir's faculty bio, her academic focus is "the intersections of leadership, gender, and diverse cultural contexts to advance social justice." This fall she is slated to teach "Social Justice and Urban Education" at the Washington D.C.-based institution, her bio states.
DeCuir tweeted on Aug. 18 that she produced the nearly one-hour "teacher training video to disrupt anti-Muslim racism when we teach 9/11. Share it with your favorite teachers!"
I produced a 40 minute teacher training video to disrupt anti-Muslim racism when we teach 9/11. Share it with your favorite teachers! 9-11 Teaching – CICW @ SU https://t.co/Ns5CzRHkoF

— Amaarah DeCuir (@amaarah_decuir) August 18, 2021
In the video, DeCuir states her research on Muslim public school students finds they have experienced racism for generations, even "centuries."
In contemporary settings, this racism manifests as the stereotype of the Muslim terrorist, largely originating as a result of 9/11, the professor argued.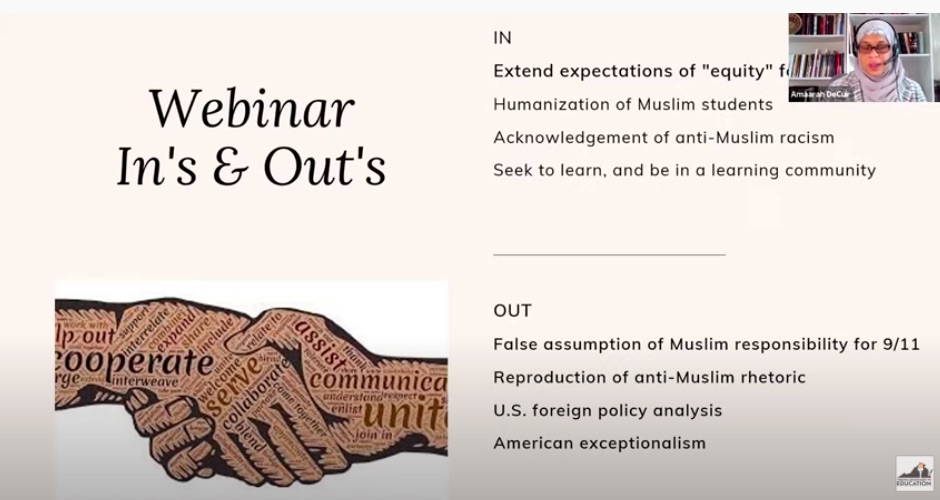 DeCuir recommends using the term "extremist" and not "terrorist" as the latter tends to be associated with "people who claim to be Muslim."
Mass violence and casualties not perpetrated by Muslims (or those who claim to be such) is described as something other than "terrorism," she argues.
(Watch at around 46:30 in the video)
While relating the experiences of three Muslim students, DeCuir uses a sarcastic, mocking-style voice when imitating a school administrator stating "on this fateful day [9/11], this happened."
Instead, teachers should "center the emotional needs of Muslim students" as they plan lessons and activities about 9/11, she said.
Around the 40-minute mark, DeCuir says teachers cannot be politically "naive" and think there is "only one way that people understand this day [9/11]."
It reproduces "this false understanding that there's only one world view. And there isn't," she said. A socially conscious teacher "understands there's multiple perspectives," DeCuir says.
DeCuir emphasizes highlighting stories of Muslims and Muslim-Americans during and after September 11, including the fear they experienced from a wave of anti-Muslim racism and violence.
For example, the lecturer denounces a teacher's past 9/11 activity in which the educator had students write down the names of the 9/11 terrorists. Instead, she recommends teachers use the story of a Sikh man who was killed four days after 9/11 after being mistaken for a Muslim.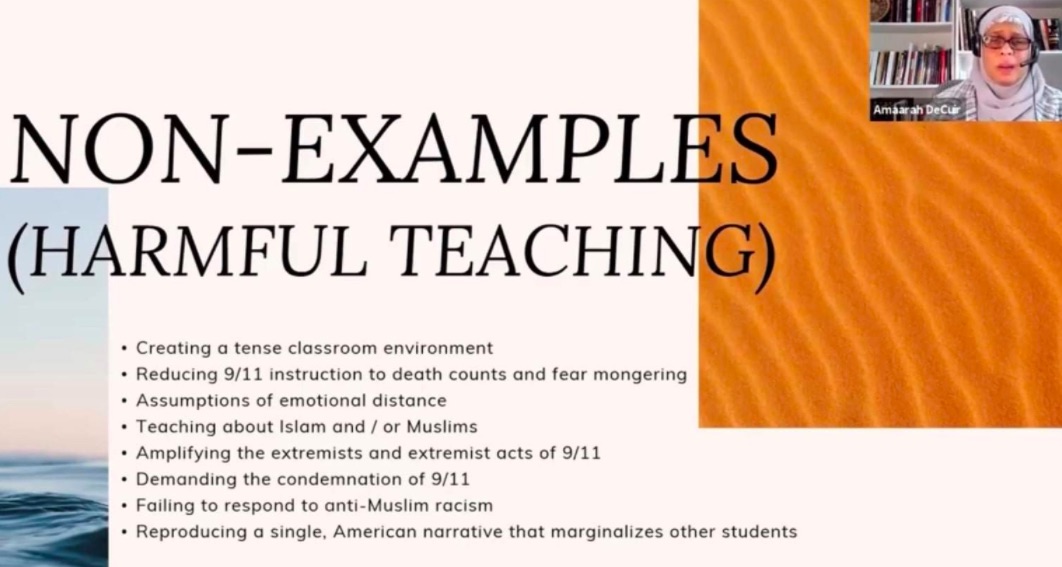 In discussing the 20 years of 9/11's impact, DeCuir mentions the erroneously named "Muslim ban" implemented in President Trump's first year in office. There was no such ban, as the policy targeted specific countries, some of which are majority-Muslim.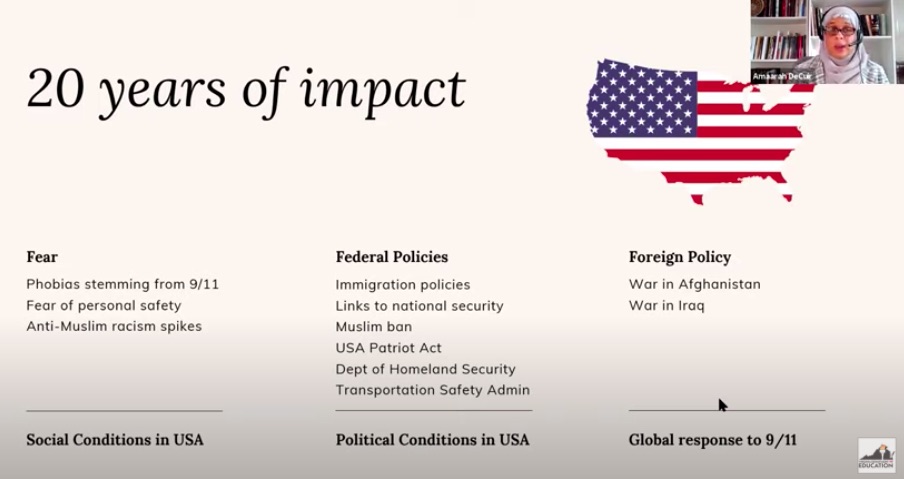 The Virginia Department of Education has turned off comments for the video, posted on YouTube earlier this week.
MORE: College deems students' 9/11 'Never Forget' posters bias incident for highlighting Islamic terrorism
IMAGES: YouTube screencaps
Like The College Fix on Facebook / Follow us on Twitter