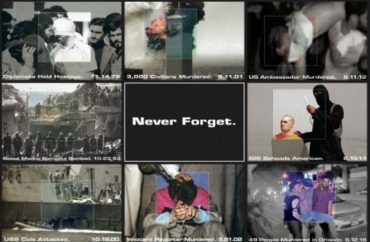 College bias team rebukes students' 9/11 'Never Forgot' posters as inflammatory, unacceptable 
A group of conservative students at Ripon College have been told their 9/11 "Never Forget" posters violate the school's bias policy, citing the fact that its imagery is exclusively focused on Islamic terrorism.
At a meeting Tuesday between members of the Young America's Foundation and the campus bias response team, a school official said the posters focus "relentlessly on one religious organization, one religious group, one religious identity–in associating that one religious identity with terrorist attacks which go back far before 9/11 and after 9/11–creates for some students here an environment which they feel like they are not able to learn," according to an audio recording of the meeting obtained by YAF.
A school official said the posters create an "environment" where "students from a Muslim background would feel singled out" or "harassed," according to the recording.
"There is nothing that this poster, in particular, adds to the conversation about 9/11, or about the politics of terrorism, or about national security or responses to it that couldn't be done easily and more constructively without it," one administrator reportedly said.
The poster is designed like a tic-tac-toe board with eight of the nine squares containing images of terrorist incidents perpetrated by Islamic extremists over the years and the center block stating "Never Forget" in black and white. The images include scenes from 9/11, Benghazi, the Pulse nightclub shooting, ISIS beheading, the USS Cole bombing and the Iran hostage crisis.
Other comments by Ripon College administrators reportedly included: "Some things [on the poster] don't have anything to do with 9/11"; "I'm not sure I think the Iran hostage issue was Islamic terrorism"; and that Islamic terrorism "represents a small percentage of the terrorist attacks that happened to this country, and they don't represent the full gamut, and they show a very small picture of a specific religion or nationality instead of the larger viewpoint."
Ripon College administrators did not respond to a request seeking comment Wednesday by The College Fix. According to the private, Wisconsin-based school's website, "any act that creates an intimidating, hostile or offensive educational, social or working environment will not be tolerated."
Every year, YAF chapters across the country take part in the 9/11 memorial program. They're sent the posters, as well as nearly 3,000 flags students can plant in the ground to commemorate the anniversary of Sept. 11, and other items like buttons stating "Never Forget." Some students just install the flags, others hang the posters as well.
"The original need for us to create this project dates back to 2003, when we saw schools trying to sanitize 9/11 and not talk about who committed these terrorist acts," said YAF spokesman Spencer Brown in an interview with The College Fix, adding the poster images have been updated over the years.
Last year, when YAF's Ripon chapter hung the posters, they created a ton of controversy and were reported to the school's bias response team, said chapter president Hannah Krueger.
"Last year many posters were torn down and destroyed," Krueger told The College Fix via email. "The posters went before the student judiciary board and they found them to be in compliance with the poster posting policy. It is only this bias protocol team that finds them to be inappropriate and racist."
Krueger said her group was informed at the end of the spring 2018 semester during finals that their posters "from way back in September were offensive." She said she tried to meet with officials for more information but everyone was out during the summer. Finally, she said she was able to get in a room with the bias team Tuesday, just a couple weeks before the annual remembrance.
"[I]t was implied we could not put up the posters," she said of the meeting. "We offered to add images to the poster to make it showcase even more terrorist attacks, those executed by non-Muslims. This was said to try and assuage their complaints about it being biased. They said it would only appear as an afterthought and they heavily implied the current posters could not be put up. They wanted us to spend the time to create a whole new one. Something us college students don't have with only two weeks of notice."
Krueger said she is frustrated.
"I think that their claims that the posters were inflammatory and inappropriate are completely ridiculous," she said. "Last year we had some of our posters ripped down and torn apart. However, this, in my opinion, is due to the fact that many left wingers on campus cannot stand to see a competing viewpoint. If they had really wanted to oppose our viewpoint, they should have offered us a debate or forum, something we would have been more than glad to participate in."
"… I firmly believe our conservative viewpoints are being targeted. If others put up a poster that offends me or challenges my viewpoint, I simply try to open a discussion with them or fairly debate their viewpoints, not call upon a bias protocol board to step in and highly discourage the poster with potential consequences."
Krueger wants to stand firm, she said.
"Personally, we are scared that if we back down on this issue our future events will be subject to more scrutiny," she told The Fix. "If we were only to post a picture of the twin towers, we fear that in a few years that will be found discriminatory. And the bias protocol board couldn't promise that they wouldn't. Our chapter is planning many events like 'shoot the stress away' and a 'cemetery for the innocents.' If we cave on this, what's next?"
MORE: History professor rips down campus 9/11 'Never Forget' posters (VIDEO)
Like The College Fix on Facebook / Follow us on Twitter