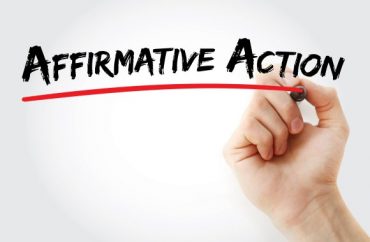 A professor from the University of Southern California believes that the recent Trump administration announcement that it will look into affirmative action in college admissions is merely an "invest[ment] in protecting white student overrepresentation at the most elite, most-resourced institutions."
Shaun Harper, director of the USC Race and Equity Center, goes even further, stating in The Washington Post that threats to affirmative action even menace democracy itself:
"Our economic wellness, national security, innovation and global competitiveness depend almost entirely on increasing the educational attainment of all our citizens, not just white Americans."
Consider that whites make up 93 percent of the Senate and 78 percent of the House of Representatives. Ninety-two percent of governors are white. The majority of Trump administration Cabinet members and political appointees at the Justice Department are white. Almost all these white officials are college graduates. Therefore, investigating and suing institutions of higher education for bias against whites would help preserve white supremacy in our nation's political leadership.

Our country has and will continue to become more racially diverse. This is a fact. Hence, any effort to sustain white overrepresentation and limit college access for students of color is a threat to democracy. …

As MIT Professor Craig Steven Wilder masterfully documents in his book, "Ebony and Ivy: Race, Slavery, and the Troubled History of America's Universities," enslaved blacks built — and profits from the American slave trade helped finance the construction of — many predominantly white institutions in our country. This includes the University of Alabama, where Attorney General Jeff Sessions attended law school. For hundreds of years, black Americans who helped build these campuses were not allowed to enroll at them; access has been restricted for generations of their family members. Race consciousness in admissions is one way these institutions can correct their long-standing records of racial wrongs.
Harper adds that "decades of research" show that students who attend (racially) diverse schools "experience higher cognitive gains and a vast array of other outcomes" than those who do not.
Would this not, then, be an argument against Historically Black Colleges?
In the past, Professor Harper has opined that black athletes are routinely "duped" by colleges; he advises (black) athletes to demand that the colleges for whom they choose to play graduate them — or they won't play.
He also has advised student journalists to respect college race protesters' "safe spaces" — due to "cultural sensitivity."
To his credit, despite his visceral views on affirmative action, Harper believes the discussion on the topic should be free and out in the open: "Put your position in there, continue to fiercely debate it," he says.
Read the full Washington Post piece.
MORE: Texas A&M sees 114% growth in diversity without affirmative action
MORE: Using its Harvard playbook, anti-affirmative action group targets UT for Asian discrimination
Like The College Fix on Facebook / Follow us on Twitter
IMAGE: Shutterstock