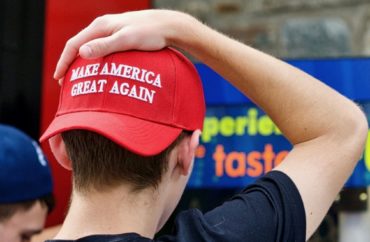 Calls student free speech advocates 'sh**lords' and 'wankers'
A Canadian university professor on Sunday advocated on social media in favor of taking a variety of actions against "white supremacists" who speak on campus, including publicly shaming them, firing them from their jobs, and driving them from restaurants.
"We should name every white supremacist," tweeted University of New Brunswick classics and history professor Matthew Sears. "Name every writer, blogger, YouTuber, and politician that inspires them. Plaster their faces in public. Fire them from their jobs. Hound them from restaurants. Expose them and those that fuel them for the hateful pathetic wretches they are."
In an e-mail to The College Fix, Sears said he said he has been getting "a lot of blowback," but that it was "nothing I haven't seen before."
In the past, Sears has argued wearing a red Make America Great Again hat will one day be seen as akin to wearing a "Ku Klux Klan hood or robe." In his recent tweets, Sears criticizes pro-Trump organizations like Turning Point USA as "cynical grifters using the 'free speech' slogan as cover for a deliberate (and often corporately funded) strategy to influence higher education."
Sears also argued against inviting speakers such as Candace Owens and Charles Murray to campus, believing neither deserves an "academic platform" for their views.
"To stand against universities providing a platform for discredited bigots, and to call out and protest those who seek to give such bigots a platform, is not to be against free speech," Sears wrote.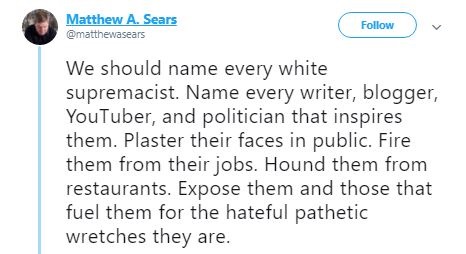 As part of a long thread of tweets, Sears said the list of those to be shamed "includes every vile little shitlord in a campus 'free speech' club who spends his time platforming white supremacist trolls under the banner of 'free speech,' and every grifting liar that goes on about campus 'censorship' and the 'marketplace of ideas.'"
"… For those in the back: Campus 'free speech' clubs aren't actually about free speech," Sears added. "They're about platforming the most discredited and awful ideas so the ok-hand-sign crowd can get their rocks off."
"People are dying," Sears wrote, suggesting speakers were culpable for violent acts. "And if opposing the environment in which people are dying means that some MAGA-hat wearing wanker doesn't feel 'comfortable' on campus or out in public, then so be it. Because that wanker makes it his life's work to make the marginalized feel unsafe."
Sears told The Fix that in retrospect, he would have been clearer about what he meant by "free speech" advocates on campus. "I think there is a distinction between those who defend free speech in good faith, and grifters like Milo [Yiannopoulos], who is only out for money and notoriety, and has no academic credentials or any other reason to be given a campus platform," he said.
University of New Brunswick administrators did not immediately respond to requests by The College Fix to comment.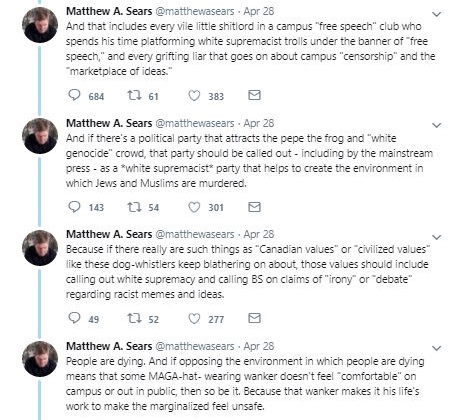 Sears stirred up controversy in January when he penned an op-ed for The Washington Post in which he argued the mere act of wearing a red "Make America Great Again" hat is enough to deem someone a racist.
"In our current context, it is impossible to separate the MAGA symbol from anti-immigrant and anti-minority views and policies," Sears wrote.
Sears' Washington Post column came on the heels of a controversy in which Covington (Ky.) Catholic High School students and Native American activist Nathan Phillips clashed following the March for Life Rally in Washington, D.C. The high school boys, several of whom were wearing red MAGA hats, were being taunted with homophobic slurs by an extreme group known as the Hebrew Israelites when Phillips and his cohorts inserted themselves into the scene.
While coverage of the event immediately blamed the Covington students for being disrespectful to Phillips, video clips that emerged in the aftermath demonstrated Phillips had lied to media about what exactly happened. The student at the center of the controversy, Nick Sandmann, has filed a $250 million defamation lawsuit against the Washington Post for its coverage of the incident.
Nonetheless, Sears was unmoved, claiming the simple act of wearing a red hat made the high schoolers culpable.
"That the boys were wearing MAGA hats and other Trump apparel — and allowed (if not encouraged) by their chaperones to do so while at the March for Life — constitutes a deliberate political act and a deliberate provocation," Sears wrote.
Yet Sears told The Fix he does not conflate the MAGA hat symbol with white supremacy.
"While I think many who wear the MAGA hats do have white supremacist or otherwise bigoted beliefs, I think many others wear it as an expression of support for Trump or the Republican party, without giving too much thought to what the subtext of 'Make America Great *Again*' actually is," Sears said.
"Those who wear Klan robes, by contrast, all explicitly hold racist views, and do so knowingly. So, at this point, the MAGA hat is more complex and might mean a variety of things, whereas in the future we might look back on this time and consideration the MAGA hat to be more sinister than it might appear today."
In his tweets over the past several days, Sears explained why publicly shaming and harassing campus speakers and their supporters were compatible with principles of free speech.
"While everyone is entitled to their opinion, not all opinions are equally valid," Sears tweeted. "Every single one of us, and every single organization, adjudicates – all the time and in many ways – between which opinions should be given weight and which shouldn't. That's not against free speech."
"… And if there's a political party that attracts the pepe the frog and 'white genocide' crowd, that party should be called out — including by the mainstream press — as a *white supremacist* party that helps to create the environment in which Jews and Muslims are murdered," Sears wrote.
Ironically, even though Sears has taken a strong position that others should suffer consequences for their free speech, he has expressed confusion at the backlash he has received for his controversial comments.
"The idea that a guy that studies Ancient Greece working in New Brunswick, Canada, can be this huge a threat to the American political landscape in Washington, D.C., is a little bit overwrought," Sears told the New Brunswick student newspaper after he compared MAGA hats to KKK robes.
"I mean you develop a thicker skin, but it still wears you down," Sears told the paper. "Our current political atmosphere is incredibly divided and is becoming an outrage machine."
MORE: Canadian professor under investigation for promoting free speech in class
IMAGE: John Chase / Shutterstock.com
Like The College Fix on Facebook / Follow us on Twitter