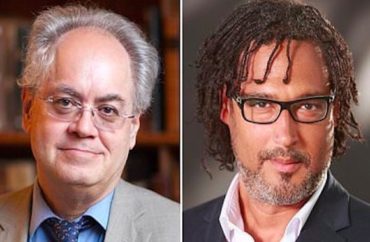 A pair of professors in the United Kingdom are going at each other after one accused the other of "racism" for describing a mixed-race scholar as "eloquent."
University of Cambridge history professor David Abulafia described David Olusoga (both at right), a University of Manchester historian, as such in a January 6 op-ed about Edward Colston statue-toppling radicals who had ended up being acquitted.
Colston, a philanthropist, made his fortune via the slave trade during the 17th century. Abulafia made the common (and legitimate) argument that "judging the past by the standards of today leaves all our history vulnerable to being cancelled by mobs."
Regarding the jury's decision to acquit the statue vandals, Abulafia said "the jury was not being asked to judge Colston, even though the defence thought it appropriate to call the eloquent David Olusoga as a witness and to ask him to describe Colston's career."
According to the Daily Mail, U. Cambridge's Priyamvada Gopal said using "eloquent" or "articulate" for "intellectuals of colour" could be viewed as "a sleight of hand dismissal" and that it "implied the person was 'just whipping up passions' and had no substance."
MORE: School district to stop using word 'grandfathering' due to racist origins
"Postcolonial Studies" scholar Gopal, who once compared Indian Prime Minister Narendra Modi to Donald Trump ("Hindu supremacy" and "white supremacy"), also posted Abulafia's op-ed on Twitter saying "few undergrads produce work this weak after the first week or so."
Calling writers/scholars/intellectuals of colour 'eloquent' or 'articulate'–e.g Abulafia on Olusoga– can quite often be a little sleight of hand dismissal–'yeah yeah yeah, you talk a good game, people are gonna like it, but you're just whipping up passions, no substance'.

— Priyamvada Gopal (@PriyamvadaGopal) January 8, 2022
In response, Professor Abulafia labelled her 'utterly bizarre', accusing her of twisting everyday language. He denied his words were offensive and said both white and black people could be equally described as eloquent without racial implications. …

Professor Gopal, who teaches postcolonial literature, seized on the article and posted it on Twitter. This was seemingly in response to a tweet from another academic who claimed that 'the writings of academics that champion bigotry' would not 'pass an intro class'. …

Professor Abulafia hit back in an interview with student newspaper Varsity, calling her comments 'insulting or potentially libelous'.

The former chairman of the history faculty said: 'I have never heard the use of the word eloquent being linked to racism. David Olusoga has a marvelous ability to communicate, I admire that enormously. The word eloquent is the perfect word to use.'
Gopal might have a bit more of a case, such that it is, if she hadn't used the exact same word to describe a black poet in 2019.
MORE: Latina lecturer shamed as 'racist' for asking that N-word NOT be used
IMAGE: Romanka Konig/Twitter screencap
Like The College Fix on Facebook / Follow us on Twitter