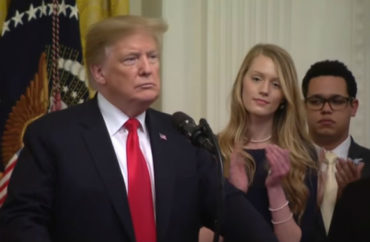 Biden's team is also recruiting poll watchers
During Tuesday night's presidential debate, President Trump urged his supporters to "go into the polls and watch very carefully," citing "poll watchers" who were "thrown out" of a polling station in Philadelphia earlier in the day.
Though it wasn't clear Trump was telling rank-and-file supporters to remain in a polling station after they voted, in order to look for irregularities, a history professor at Rutgers University-Newark accused him of "an old tactic of voter intimidation."
Mark Krasovic's essay in The Conversation said Trump's line isn't "the first time Trump has said he wants to recruit poll watchers to monitor the vote." (Krasovic largely published his Aug. 10 essay and added a few paragraphs about Trump in Wednesday's essay.)
"And to some, the image of thousands of Trump supporters crowding into polling places to monitor voters looks like voter intimidation, a practice long used in the U.S. by political parties to suppress one side's vote and affect an election's outcome," the professor said.
He claimed that "Republicans in 1981 relied not only on armed poll watchers but also on a history of white vigilantism and intimidation" in New Jersey, where he lives.
"These issues resonate today in the midst of the Black Lives Matter movement and continued GOP attempts to suppress the 2020 vote in numerous states," Krasovic said.
He referenced an expired "consent decree" under which the Republican Party promised to refrain from "ballot security" measures such as using poll watchers. The court agreement stemmed from allegations three decades ago that the party sent off-duty armed police officers to primarily black and Latino neighborhood polling places in New Jersey.
The Trump campaign told The Washington Post that fears of intimidation by poll watchers are overblown.
"Poll watchers are critical to ensuring the fairness of any election, and President Trump's volunteer poll watchers will be trained to ensure all rules are applied equally, all valid ballots are counted, and all Democrat [sic] rule breaking is called out," campaign spokeswoman Thea McDonald said in a Wednesday article that also included a quote from Krasovic.
"And if fouls are called, the Trump campaign will go to court to enforce the laws, as rightfully written by state legislatures, to protect every voter's right to vote," she continued. "President Trump and his team will be ready to make sure polls are run correctly, securely, and transparently as we work to deliver the free and fair election Americans deserve."
Joe Biden's presidential campaign also has a voter protection and poll watching recruitment effort.
For example, Florida residents can sign up for the "Florida Voter Protection Team" and volunteer to poll watch during early voting and on Election Day.
Read Krasovic's essay, Post report and directions for joining Biden's "Florida Voter Protection Team."
MORE: College politician sues opponent for election fraud
IMAGE: Fox News/YouTube
Like The College Fix on Facebook / Follow us on Twitter