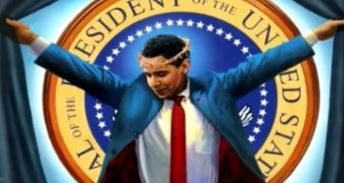 Georgetown University sociology Professor Michael Eric Dyson not only likened President Obama to Jesus in a recent television appearance, but admitted many of the president's supporters really look at him as a savior, and possibly thee savior:
"Now, Eric Holder is great!  Let me tell you what, Eric Holder, one of, what, five most powerful black figures EVER?  Obama, Holder, Clyburn, William Gray.  These figures have been extraordinarily important in politics.  But, you know, I'm a Christian preacher and God finally said, 'Look, I can't send nobody else, I got to go myself.'  And I ain't sayin' that Obama is Jesus, but for many of his followers he is.  But I'm saying, show up dog, and show us that you are seriously committed to the interests of your people, because your presence says something louder than even your words."
So, I guess the message here is Obama is sorta, kinda Jesus – but he's not doing a great job for his "people." In the words of the esteemed professor: Show up, dog!
By the way, Dyson – named by Ebony as one of the hundred most influential black Americans – is not the only professor who has compared Obama with Jesus.
There was also "The Gospel According to Apostle Barack," the title of a book penned by a Florida A&M University professor who compares Jesus with Obama and says God told her in a dream to write it.
p.s. Eric Holder is one of the worst attorney generals in this country's history.
Like The College Fix on Facebook / Follow us on Twitter