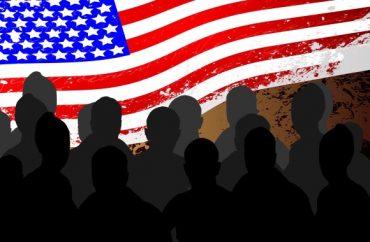 The American Dream is often described as striving to attain success through hard work and dedication amid vast opportunities — that anyone can succeed in this country if they work hard.
However, one professor said she believes this idea is harmful to black Americans.
San Francisco State University Assistant Professor of Management Verónica Caridad Rabelo was recently asked during a virtual panel August 4 focused on anti-racism about what behaviors and patterns can perpetuate rather than counteract "anti-black racism."
Rabelo, as part of her response, argued that the "model minority myth obscures the realities of racism."
"Model minority mythology reinforces other damaging ideologies that are predominant in our society, such as the American Dream, that success is attainable through effort and following the rules regardless of one's identity or experiences," the professor said.
"However," Rabelo added, "we know that our society is not actually a meritocracy. White supremacy and inequality are cemented into the foundations of all our major institutions of policy."
The panel, hosted by the University of Michigan's Center for Positive Organizations in its Ross School of Business, was titled "Antiracism, Allyship, and Authenticity: Building Internal Capacity for Institutional Change."
Rabelo was among 10 professors and professionals to weigh in on the overall topic during the two-hour virtual presentation.
If you missed yesterday's panel – Antiracism, Allyship, and Authenticity – the video (w/ CC and transcript) is online. Thank you to Sandra Cha + @alymeister @LuSeegars @pfhewlin @CL_McCluney @VeroRabeloPhD @victorerikray @WorkrBeeing @EllaFWashington! https://t.co/A3avgL082m pic.twitter.com/aylgFozYAy

— U-M Positive Orgs (@PositiveOrg) August 6, 2020
Rabelo criticized the idea that all people can attain success "through effort and following the rules, regardless of one's identities or experiences."
Rabelo defined the "model minority mythology" as "a set of stereotypes and structures that casts typically Asian Americans but other groups as well as 'ideal' members of organizations in society based on their perceived work ethic, educational attainment and success."
"And so the model minority myth is rooted in anti-blackness," she said.
What Rabelo is referring to is an argument against the idea that America is systemically racist. Pundits will often point to the success of Asian Americans, who have the highest household income in the country. If a minority community is able to do so well, this line of thought asserts, success in America relies more on individual decisions than on race.
However, Rabelo claimed that this idea is "rooted in anti-blackness because it seeks to differentiate 'model minorities' from bad or undesirable minorities."
MORE: Calif. professors instructed not to say 'America is the land of opportunity'
Also on the panel was Sandra Cha of Brandeis University, who opened the discussion.
She discussed how businesses can help people of color feel more "authentic" at work. According to Cha, some companies tend to "normalize whiteness," so a black person may not be able to "outwardly express [his] true self."
Cha said some research has found that cultural minorities such as Muslim women in hijabs or black women with natural hairstyles tend to be rated unfavorably by employers.
For a discussion on solutions, she turned to Courtney McCluney, assistant professor of organizational behavior at Cornell University, and Patricia Hewlin, associate professor of organizational behavior at McGill University.
"As much as organizations are trying to create more diverse, equitable, and inclusive workplaces, unless they start to interrogate what it is that they actually value and what it is that they normalize, they will continue to prefer someone white on their resume," McCluney said.
Hewlin echoed the sentiment, saying that, under the negative conditions McCluney and Cha described, there is a "likelihood that [a person of color] is going to leave the organization," which can lead to a more monochromatic workplace.
Hewlin also addressed concerns of some employees that might not be fond of the diversity initiatives they recommend.
"These tough conversations also include counter opinions," she said, encouraging employers not to silence the voices of those who disapprove, but to take their concerns seriously.
Alyson Meister of Sweden's International Institute for Management Development moderated the second segment on "the role of allies in addressing anti-black racism."
Meister had asked questions such as "how might the model minority myth derail non-black people of color allies in dismantling anti-black racism" and "how might allyship position white people into the white savoir role?"
George Washington University Assistant Professor of Management Katina Sawyer gave advice to white "allies" on how to listen to black people. She encouraged white people to "listen with the purpose of learning."
"Your experiences have not been the same as non-white individuals," she said.
According to Sawyer, "if you're listening to someone tell you about their experiences or share their thoughts … and you're having thoughts like, 'Well, that hasn't been my experience,' or, 'I'm not sure I agree with that,'" it is indicative of your "blind spot" as a white person.
Sawyer also gave advice to employers: "Your best performer is not your best performer if they're also a racist."
Western Washington University's Professor Meg Warren was also on the panel.
The assistant professor of management asserted that the panel's prescriptions can be difficult for people because "strong allyship really involves taking risk on behalf of another."
Many coworkers, Warren said, are not confident enough to speak up on behalf of black employees.
As a remedy, she urged leaders "to visibly and consistently put allyship on the agenda so that these behaviors are clearly valued and encouraged within the organization."
Lumumba Seegars, an organizational behavior scholar at Harvard University, oversaw the third and final segment on "what it means to be an antiracist organization."
Sociologist Victor Ray of the University of Iowa said that organizations need to look at racism as structural rather than incidental.
"The U.S.," Ray said, "has a very strong individualist bias, and it tends to see racism and racial inequality through a bad-actor model."
Ray said that the solution is not to teach people not to discriminate or create reporting mechanisms for people who have faced discrimination, because these responses are more reactive than proactive.
"The majority of racial inequality is produced through practices that aren't always clear or easy to see and often work without people necessarily being conscious of them," he said.
Ella Washington was the last to speak. She is the head of Ellavate Solutions, a company which offers diversity and inclusion training.
She encouraged leaders "to be more concerned with the experiences of those in pain that are working in cultures where they're not valued" than with "the negative implication of people knowing your demographics."
"When we have these conversations, it starts to become clear, slowly but surely, that even well-meaning organizations have racism embedded," she said.
She concluded by telling employers to examine every aspect of their organizations in order to "root out bias and disparate impact on employees of color."
MORE: I fled Iran, and today I happily chase the American dream
IMAGE: Shutterstock
Like The College Fix on Facebook / Follow us on Twitter