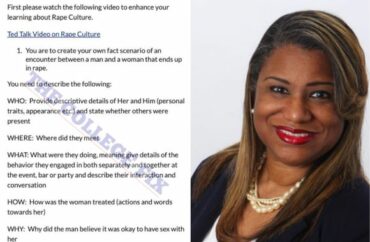 Says she wanted 'to bring rape culture and the pervasiveness of victim blaming and shaming to the class so we could have a constructive dialogue'
A University of Pittsburgh criminal justice professor has apologized for an assignment that asked students to create a "fact scenario" for an "encounter" that ends up with a man raping a woman.
"I wanted to sincerely apologize that this assignment was unsettling to some students in our class; I have used this assignment previously and it led to engaged, interactive discussion and learnings by previous students," Professor Denise Turner wrote in an email obtained by The College Fix.
She told students in the undergraduate course titled "Law and Deviance" that she updated the assignment and students can either complete it or work with her on an alternative exercise. She provided campus resources if students had other concerns.
Turner (pictured) did not respond to an Oct. 6 email from The Fix that asked her for comment. The Pitt News, the school's student-run newspaper, reported Turner is not responding to comment requests outside of her initial email to her students. The university also did not respond to an Oct. 6 email.
Turner said as well:
While this topic is undoubtedly challenging and difficult to engage on, my intention with the video and course reading was to bring rape culture and the pervasiveness of victim blaming and shaming to the class so we could have a constructive dialogue.

The assignment where I asked you to depict an encounter between two individuals—was not meant to be about the sexual violent act itself, it was meant to highlight the mistreatment that victims face due to factors like clothing, location of encounter, time of day, etc.—which can lead to victims being cast in an unfair and negative light.
Two students who posted viral TikTok videos about the assignment shared their concerns with The Fix.
Peyton Gualtieri was the first student to expose the assignment on social media. Her video, as of Oct. 10, has 1.2 million views on TikTok.
Gualtieri told The Fix via email why she believes the assignment is morally wrong.
She said her professor "specifically assumes females are the only victims of sexual assault."
"In terms of the last question she asked about suggesting 2 ways men should be taught not to rape — this is explicitly a morality situation which needs to be discussed and talked about by families. you learn this growing up – it is right from wrong…. this is like asking a [murderer] not to murder," Gualtieri said.
She said her video was one of the reasons why her fellow classmates were willing to speak up.
"After my video got some buzz, a bunch of my classmates reached out to me saying how they emailed [Professor Turner] suggesting they weren't going to complete it," Gualtieri said. "[H]owever, she never [directly] responded to anyone."
Lili Orozco, another student of Turner's, also took to TikTok to discuss the assignment. Her video has 700,000 views as of Oct. 10.
"I'm not going to sit on my laptop and create a false situation of a woman getting raped and then justifying it," Orozco said in her video. "It's absolutely disgusting, and I'm not doing it."
The university is aware of the situation and is addressing it, according to the student newspaper.
Gualtieri said she does not want to complete the alternative assignment until she can meet with her professor.
"I don't think that I will be completing the assignment until after I reach out to her and hear her response to my concerns," she told The Fix. "She neglected to answer any of my classmates' emails. More explanation needs to go into what the requirements of the assignment are — which is part of the reason why so many people were triggered.
"There is not a good explanation for what she is trying to teach."
MORE: MSU concerned Spartan helmet may trigger sexual assault victims
IMAGES: Denise Turner/Linkedin; Emails from Denise Turner
Like The College Fix on Facebook / Follow us on Twitter