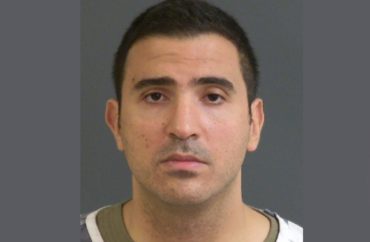 University confirmed he is here on a visa from Jordan
A finance professor at The Citadel has been arrested after allegedly beating his wife, taking away her passport and attempting to stop her from leaving their home.
Charleston County prosecutors charged Hussein Ali Ahmad Abdoh with kidnapping and criminal domestic violence in the first degree, according to the court database. He remains in jail as of March 29.
The violence allegedly started when the six-foot-two, 230-lb professor "grew upset over his 3-year-old son's crying around 1 p.m. [on March 18] and told his wife to leave the apartment with the child," according to The Post and Courier.
"While she attempted to put on her hijab and dress their son, Abdoh allegedly slapped her on the back of her head," the paper reported. "His wife told police he then blocked the door, took away her cell phone as she tried to call for help, and refused to let her leave."
"When he eventually departed, he reportedly took the passports of his wife and son with him, along with any 'financial means' to keep them from fleeing or staying somewhere else," the paper reported.
The South Carolina newspaper reviewed the arrest records though it did not provide a full copy in its article. The sheriff's office did not respond to a Monday request for a copy of the arrest report.
The paper summarized the incident based on a review of the arrest affidavits.
His wife then returned to Jordan after Abdoh returned the passports.
Citadel spokesperson Zach Watson told The Fix on Monday that Abdoh is here on a visa from Jordan and is not an American citizen.
The university did not find any issues in Abdoh's past during its background check.
"No prior criminal history was discovered during Dr. Abdoh's background check," Watson told The Fix.
He shared a statement that said the university is cooperating with authorities. Professor Abdoh is suspended and on unpaid leave.
The College Fix emailed Abdoh at his personal and work email listed on his curriculum vitae Monday. The Fix asked how he planned to plea. The Fix emailed Abdoh's attorney John Molony on Tuesday and asked the same question but did not receive a response.
Abdoh previously taught in Jordan and the United Arab Emirates, according to his curriculum vitae.
MORE: Professor arrested for trying to set Catholic church on fire
IMAGES: Charleston County Sheriff's Office
Like The College Fix on Facebook / Follow us on Twitter