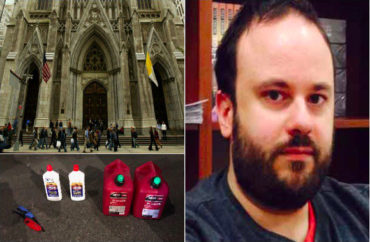 A professor from Seton Hall University was taken into custody by New York City Police counterterrorism personnel Wednesday evening for allegedly attempting to set fire to the city's renowned St. Patrick's Cathedral.
Philosophy adjunct Marc Lamparello tried to enter the cathedral carrying two cans of gasoline a mere two days after a huge blaze destroyed part of the Paris's Notre Dame Cathedral.
As reported by The Setonian, the NYPD deputy commissioner said Lamparello had parked a minivan outside the cathedral around 8pm, and proceeded to take out the gasoline containers, lighters, and two bottles of lighter fluid. He was confronted by cathedral security just inside the building who told him he couldn't go any further with what he was carrying.
Counterterrorism officers were promptly alerted after Lamparello "spilled gasoline on the church floor while exiting the building." The adjunct told the officers he was "trying to cut through the cathedral to get to Madison Avenue and that his car had run out of gas." Law enforcement determined the latter claim was a lie, and as such Lamparello was taken into custody.
Miller told reporters that although initially they hadn't determined a motive, it didn't appear to be terroristic in nature. He did note, though, "the totality of circumstances—of an individual walking into an iconic location like St. Patrick's Cathedral, carrying over two gallons of gasoline, two bottles of lighter fluid and lighters—is something that we would have great concern over." Miller added that Lamparello had also booked a $2,800 ticket to Rome set to depart on Thursday evening before arriving at St. Patrick's.

Prior to the incident at St. Patrick's, Miller noted Lamparello had also apparently been arrested earlier this week on Monday evening at the Cathedral Basilica of the Sacred Heart in Newark, New Jersey after he had refused to leave when the building closed. …

Lamparello, who had been scheduled to teach two sections of Ethics the evening of his arrest, sent an email canceling class on account of an "unforeseen illness" and said that the section would meet again following Easter Break.

Laurie Pine, Seton Hall's director of media relations, confirmed in a statement that Lamparello was no longer employed by the University as of today. "Although Marc Lamparello had an appointment as a part-time adjunct instructor at Seton Hall for the Spring 2019 semester, he is no longer working at the University. Seton Hall's top priority is the education and welfare of our students and the entire campus community," Pine said.
According to Heavy.com, Lamparello had a Catholic upbringing and was the musical director at a church in East Rutherford, New Jersey. It appears he had some self-esteem issues as he was a "frequent poster on the Reddit community 'AmIUgly'" where he wrote about his dating difficulties:
Honestly, I'm getting murdered on Tinder. It's a total self-esteem killer. I'm a pretty in-shape guy, and I'm going for in-shape women who are a little attractive, and have a few nice features. Not models, but just generically attractive women. I've "swiped right" on 500+ women. So far, not a single match. Depressing. I think I should probably give up on dating for the time being […]
Lamparello also once opined about the French's dislike for President Trump, but not in the way you might expect: "All I know is, if the French dislike us for something, we must be doing something right."
Read the Setonian and Heavy.com articles.
MORE: Prof: 'American intervention is the primary CAUSE of terrorism'
MORE: Professor tells students: Trump's election an 'act of terrorism'
IMAGE: Twitter
Like The College Fix on Facebook / Follow us on Twitter