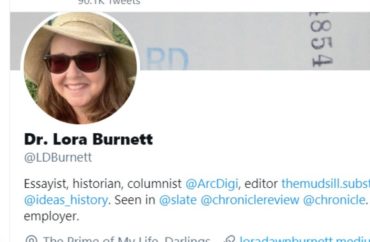 'I have retained an attorney and am exploring my options'
Lora Burnett has a history of calling for faculty to be punished for their speech and associations.
Economic and political historian Phil Magness emphasized this when I wrote about scrutiny the Collin College history professor was facing for her crude tweets about Vice President Mike Pence.
The Collin administration has now confirmed it won't renew the untenured scholar's contract, which ends in May, for not conducting herself "in a professional manner."
Burnett shared images from the human resources letter she received, which allege she violated "delineated standards of conduct" through her "insubordination, making private personnel issues public that impair the college's operations, and personal criticisms of co-workers, supervisors, and/or those who merely disagree with you."
She characterized the firing as retaliation for "mean tweets."
Breaking #highered news: after deleting his entire Twitter account (which he was obliged to preserve for legal purposes), @collincollege president H. Neil Matkin has decided to not renew my contract for…mean tweets? From the HR letter: pic.twitter.com/eq4VF7BySx

— Dr. Lora Burnett (@LDBurnett) February 25, 2021
The Chronicle of Higher Education calls Burnett "perhaps [President Neil] Matkin's most outspoken critic." The college also recently let go two professors who organized its chapter of the union-like Texas Faculty Association, one of whom started a public letter against its COVID-19 reopening plan.
Burnett tweeted Thursday night that she was "disappointed but not surprised" at being let go for her free speech, accusing the college of lacking transparency. "I have retained an attorney and am exploring my options."
She used the incident to repeat her view that her firing was not "cancel culture," because "there's no such thing."
While you're here…

No, this isn't "cancel culture"; there's no such thing.

This is *government* retaliation for free speech, which is illegal and actionable.

wrote about it here:https://t.co/oSN54gJTXw

— Dr. Lora Burnett (@LDBurnett) February 26, 2021
The likely non-renewal of Burnett's contract, previewed by a critical Texas lawmaker who previously asked Matkin how he planned to handle Burnett, was "deeply ironic" given her attempt to cancel several economics faculty at taxpayer-funded George Mason University in 2018, Magness, the historian critical of Burnett, said last week.
She demanded they be sanctioned, stripped of tenure and "possibly fired for no other reason" than accepting grant money from the Koch Foundation. "The Kochs have been paid to counterfeit academic legitimacy," Burnett wrote in a since-removed blog post, according to Magness.
This is a deeply ironic story. In 2018, Burnett publicly demanded that several econ faculty at GMU be stripped of tenure, sanctioned, & possibly fired for no other reason than that they had received grant money from the Koch foundation. "Free speech for me, but not for thee!" https://t.co/B1iQ0JPiPc

— Phil Magness (@PhilWMagness) February 20, 2021
More from Burnett's 2018 crusade to sanction faculty at GMU, including demanding the retraction of their academic work. She's been scrubbing this history off her blog, so screencapping for posterity. pic.twitter.com/UiRRr8KhBw

— Phil Magness (@PhilWMagness) February 20, 2021
IMAGE: Dr. Lora Burnett/Twitter
Like The College Fix on Facebook / Follow us on Twitter