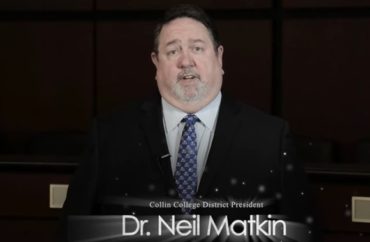 One ambiguous text from one state lawmaker
Last fall, a community college in Texas implied it might punish an untenured professor whose tweet and retweet against Vice President Mike Pence after his debate performance drew public criticism.
Collin College President Neil Matkin told faculty in an email that Lora Burnett's tweets – which called Pence a "scumbag lying sonofabitch" with a "little demon mouth" – had drawn attention from "college constituents" and prompted "contacts from legislators."
Most of the feedback the college received was in favor of Burnett's termination, he said. (She welcomed the attention.)
What were the contents of these "contacts from legislators," which the college seemed to be using as justification to punish a professor so as to protect its state appropriations?
The taxpayer-funded institution refused to turn over the communications when they were sought by the Foundation for Individual Rights in Education. It claimed they were protected under an exception to public records law for anticipated litigation, apparently believing Burnett was about to sue the college.
The Texas Attorney General's office disagreed, saying no one had taken "objective steps toward filing suit," and ordered the request fulfilled.
Nearly four months after the college formally resisted the request, it has provided the "contacts from legislators," which show Matkin's statement to faculty was false.
MORE: NYU investigates prof for teaching students to question COVID-19 'propaganda'
All the college turned over was one ambiguous text from a local state lawmaker (left).
"LD Burnet [sic] is paid with taxpayer dollars, correct?" Rep. Jeff Leach wrote. Matkin confirmed that Burnett was "definitely" paid that way: "I'm aware of the situation Jeff and will deal with it. Already on my radar before the current issue." (The president may have been referring to Burnett's email to him in August, when she asked Matkin to issue a "retraction" for his campuswide message that questioned the severity of the threat from COVID-19.)
"Ok cool," Leach responded. "I'm getting calls from folks. Not a ton… but a few… as it is starting to percolate on social media." Matkin said he and the board of trustees were "getting the same. Appreciate you. Good luck in November friend."
Leach confirmed his agenda in a gloating series of tweets this week responding to Burnett's criticism of him. One since-deleted tweet celebrates his mistaken belief that she and her "maniacal, obscene rhetoric" are "no longer paid" with taxpayer dollars.
In tweets that are still public, Leach agreed he was "[t]hrilled" to be mentioned by FIRE and posted an animation of a ticking clock when Burnett said the college still employed her.
In a blog post updated Wednesday, FIRE called on President Matkin to "immediately disclose each conversation he has had with any elected official about any faculty member or their speech," given Leach's confidence in Burnett's pending separation from the college.
https://t.co/uWmWdd7pEZ pic.twitter.com/LXcy7hJGGs

— Jeff Leach (@leachfortexas) February 17, 2021
MORE: UCLA broke rules by removing lecturer who questioned race-based grading
Before the text was released, President Matkin had made clear his narrow view of free speech rights for faculty at a public college.
In the email to faculty, he disagreed with defenders of Burnett that this was an "academic freedom" issue, and said the "execution" of the college's "personnel policies will not be played out in a public manner," suggesting Burnett was under review for her tweets.
He also responded to a faculty resolution on free speech by pointing to language in the faculty handbook that requires faculty to limit their expressed disagreements with college policy to official channels, which would seem to override their First Amendment rights.
The college presented Burnett with an "Employee Coaching Form," which is issued when a faculty member is "still not meeting expectations" after previous discussions about behavior. It said she "may freely post" her views on her own social media accounts, but must not use "Collin College systems or resources," including her college email, for "private or personal conversations."
According to FIRE, Burnett declined to sign the form, noting the college had not previously approached her about her use of email.
The college's public statement about Burnett's tweets only said that her comments about Pence "may be protected," and its response to FIRE's initial warning letter suggested it would not renew her contract when it expires in May. This invocation of Burnett's contractual status "for no apparent, defensible reason" provides even more grounds to believe Collin is planning to retaliate against Burnett for her protected speech, FIRE wrote back.
Collin is on FIRE's new "10 Worst Colleges for Free Speech" list, which mentions other alleged retaliation against faculty.
Read FIRE's latest update on the dispute.
MORE: Prof found guilty of harassment for class discussion on global trade
IMAGE: Collin College/YouTube
Like The College Fix on Facebook / Follow us on Twitter