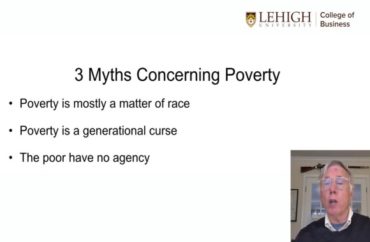 Lehigh University demotes professor's video on poverty and race after backlash
Over the past month, Lehigh University has taken actions to downgrade a video it had originally posted in late January by one of its professors on poverty and race after students on social media denounced the video as supporting racist thought.
Lehigh's College of Business had asked Frank Gunter, professor of economics at Lehigh, to create a brief video from his recent op-ed "Three Myths About Poverty." They posted his video on Jan. 28 as part of a series of videos directed at advising the new Biden administration on policy issues.
In his video, titled "3 Myths Concerning Poverty," Gunter had sought to debunk what he said were three "widely-held myths": that "poverty is mostly a matter of race," that it is "a generational curse," and that "the poor have no agency."
However, some students judged the video's content and presentation as racist and took to social media to criticize it as such, leading the College of Business to promptly take the video down.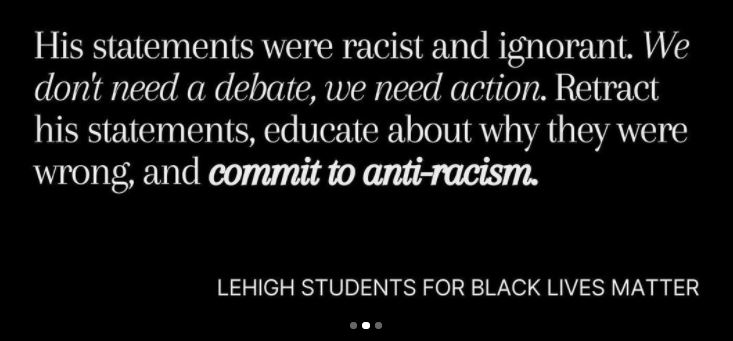 On Instagram, Lehigh Students for BLM argued that the "points brought up by Professor Gunter were not points of opinion, but incorrect and damaging statistics meant to put blame on impoverished people."
"His statements were racist and ignorant," the group continued. "We don't need a debate, we need action. Retract his statements, educate about why they were wrong and commit to anti-racism."
Professor Gunter, in an email to The College Fix, noted that while only a few called him a "racist" in emails, some of his students had told him that he was commonly being slandered and called a "racist" on Instagram and Twitter.
"I've been teaching at Lehigh for almost thirty-six years and have won several teaching awards, so the backlash was a surprise," he said.
He added, though, that since the video had come out, he had spoken to several student groups and would be speaking to another that week.
"I can't say they agree with all of the arguments that I'm making but they are good discussions," he said.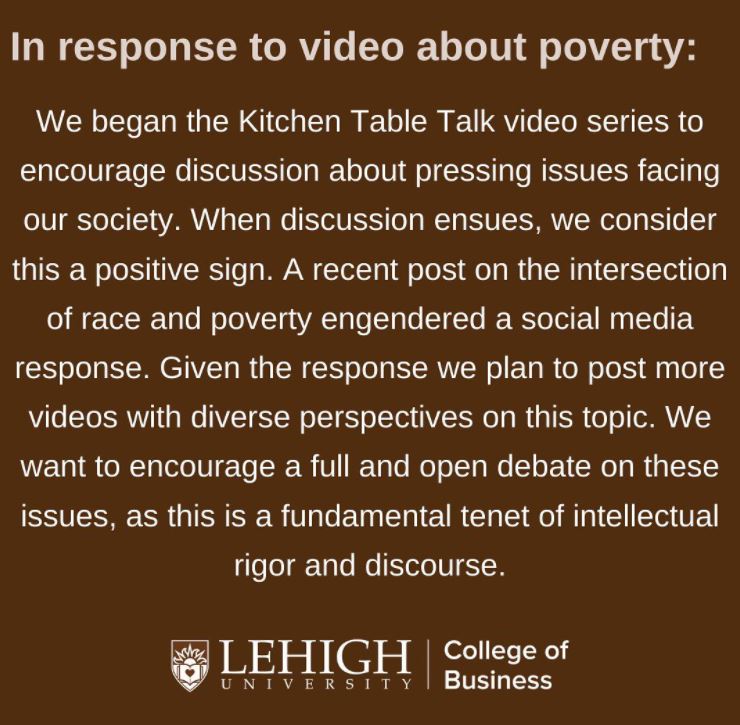 Two days after removing the video, the College of Business acknowledged on Instagram that the video had "engendered a social media response."
Even though the college said they consider it a "positive sign" when "discussion ensues," they also said they plan to "post more videos with diverse perspectives" on the topic of poverty "given the response."
Lehigh's College of Business eventually reposted Gunter's video on a new page—rather than the main page it was originally posted on—alongside a new video produced by the Department of Sociology and Anthropology.
"As we listened to feedback from the community, including criticism regarding the selective use and manipulation of the available data which framed the findings with racist context, it was clear we needed to do more," the college said in a statement posted with the two videos.
"We acknowledge that such a complex issue was not well suited to a brief single-viewpoint video. Our hope is that Lehigh Business can be a platform for more robust examination that encourages further learning on this topic along with the recognition of the need for disparate voices."
While Gunter's video had also originally been posted on the College of Business's YouTube channel, the channel now has unlisted both videos.
In the new video titled "Misunderstanding Poverty," six members from the Department of Sociology and Anthropology spend over 10 minutes taking turns to address each of Professor Gunter's claims.
"The arguments in the original video and the ones we offer here aren't the only arguments," said Ziad Munson, associate professor of sociology at Lehigh University and chair of Lehigh's sociology and anthropology department, in the video's intro. "Indeed, people spend entire careers understanding the nuance of any one of our major points. However, we also want to be clear that not all views on a topic are equally valid if you apply standards of academic rigor."
"What follows are several claims made by the original video followed by a brief discussion of why that claim should not be taken at face value," he said.
Gunter, in his email to The College Fix, said he thought the video was interesting, although he did not like the implication that his analysis was "so flawed that it was necessary that another video taking a very different view was attached."
"Several of my economics colleagues stated that they recognized that my op-ed and the video were closely related to the work done by Drs. Thomas Sowell and Walter Williams—it is not an extreme view in economics," he said.
Gunter also said he had expected the administration to "channel Voltaire: 'We completely disagree with what Prof Gunter said but we strongly support his right to say it.'"
Instead, he said he was surprised when the university took the actions it did without talking to him first, he said.
Gunter said he was also concerned with the underlying message sent by the university's actions to nontenured professors.
"I think the message to these faculty is 'Keep your head down and avoid controversial topics in your teaching, research, and public communications,'" he said. "That is not a good message for a University to send to its new faculty!"
Frederick Hess, resident scholar and director of education policy studies at the American Enterprise Institute, had made a similar argument in his own commentary on the event.
"Gunter has presumably learned his lesson, which is that certain thoughts need to be carefully 'contextualized'— and others don't," Hess wrote. "If Gunter had asserted that the United States is a genocidal, white supremacist 'slavocracy,' it's a safe bet that there would have been no rush to shut him up or recruit colleagues to set the record straight. It's an equally safe bet that plenty of faculty are watching incidents like this and observing the professional cost of wrongthink. I fear that's the point."
Some critics had said that they were offended that Gunter had referred to Black people as "Blacks" in the video. Others said they were concerned that he had failed to put his data into context.
Gunter told The College Fix what seemed to upset critics the most was his point about poverty not being mostly a matter of race, as well as his citing of research that described what choices teenagers can make to reduce their chances of ending up poor.
"I made the argument that racism cannot be the sole explanation of poverty in the United States," he said noting, as he did in the video, that African-Americans account for only 24 percent of those below the poverty line in the United States.
"While 24% is greater than the proportion of African-Americans in the population, it means, of course, that three-quarters of the poor are not African-American," he said.
Gunter noted that it is "challenging to argue that white poverty is caused by racism" when it is a fact that "a majority of the poor identify as white."
Although some critics claimed that he was suggesting that there is no relationship between race and poverty, Gunter clearly states in his op-ed that "Racism certainly contributes to poverty in America but is not the whole explanation."
Gunter said that others accused him of "blaming those in poverty for making poor choices."
He noted, however, that he had only simply "quoted the center-left Brookings Institution that stated that if a person graduates from high school, works continuously, and doesn't get pregnant until married and doesn't get married until they are 21 years old, they have only a 2% chance of being poor."
Gunter said he still holds his positions as vice chairperson of the Faculty Senate and chairperson on the Education Policy Committee.
Seventeen of the 28 Faculty Senators, including its chair, had signed and sent out a letter pledging to host forums focused on poverty and race in response to the video.
According to Gunter, the letter "tries to say in many words what Voltaire said in a few — the Senate disagreed with what I said but supported my right to say it."
In the letter, signatories state that academic freedom "allows for the original video message, and it also makes space for criticism about methods and conclusions."
Yet, they also note they felt it "important to respond" to the video as "Lehigh works to become an anti-racist institution."
"In this instance, the faculty member presented data from a single racial group without analogous comparisons to other groups, and without placing such data within the broader societal context," they wrote. "As a result, the viewpoint presented dismisses racial inequities as a component of poverty and ignores institutional forces keeping people in poverty. This has the consequence of propagating ideas rooted in structurally racist ways of thinking. We find it disappointing that the impacts of these deficiencies were not recognized, and that the video was instead promoted by our institution."
Despite the disapproval by some faculty members and criticism from some hostile social media users, Gunter noted that supportive messages from current and former students, faculty colleagues, and strangers gradually poured in.
"I especially appreciated the comments from former students that the critics were wrong about both my analysis and character," he said. "At this point, almost a month after the video was initially posted, the statements of support exceed the critical remarks."
When asked if he had any advice for those who may find themselves in a situation similar to what he experienced, Gunter responded by saying, "If you think that you are right—don't apologize."
"Remember that you are a teacher first and seek to engage every student who wants to discuss or debate your data, analysis or policy conclusion," he said.
MORE: Economics prof barred from teaching class critical of Marxism
IMAGES: screenshots
Like The College Fix on Facebook / Follow us on Twitter