Says tweets were referring to Hamas: 'I believe that rabid animals should be put down'
A 20-year veteran professor at Washington University St. Louis claims he was fired for an "anti-Palestinian" social media post made over the weekend.
Seth Crosby, the director of research collaborations for the department of genetics, responded on X (Twitter) to E. Michael Jones's comment "Israel is engaged in the ethnic cleansing of Palestinians" that "It is a much needed cleansing, yes, but not an ethnic one. Israel is not targeting humans."
When Jones replied this was "more evidence of Israel's depravity," Crosby answered "You have a gentler heart than I do. I believe that rabid animals should be put down."
(Jones, author of "The Holocaust Narrative," claims the WW II extermination of European Jews "is the creation of a series of narratives that began with Allied and Hollywood propaganda campaigns in WWII to cover war crimes committed by Eisenhower and the Soviet Union, including Eisenhower's Rheinwiesenlager and the fire storms engineered to burn alive entire populations of German and Japanese civilians.")
According to the St. Louis Post-Dispatch, before deleting his X account Crosby later clarified he was referring specifically to Hamas and not Palestinians in general. He then posted that WashU had terminated his employment.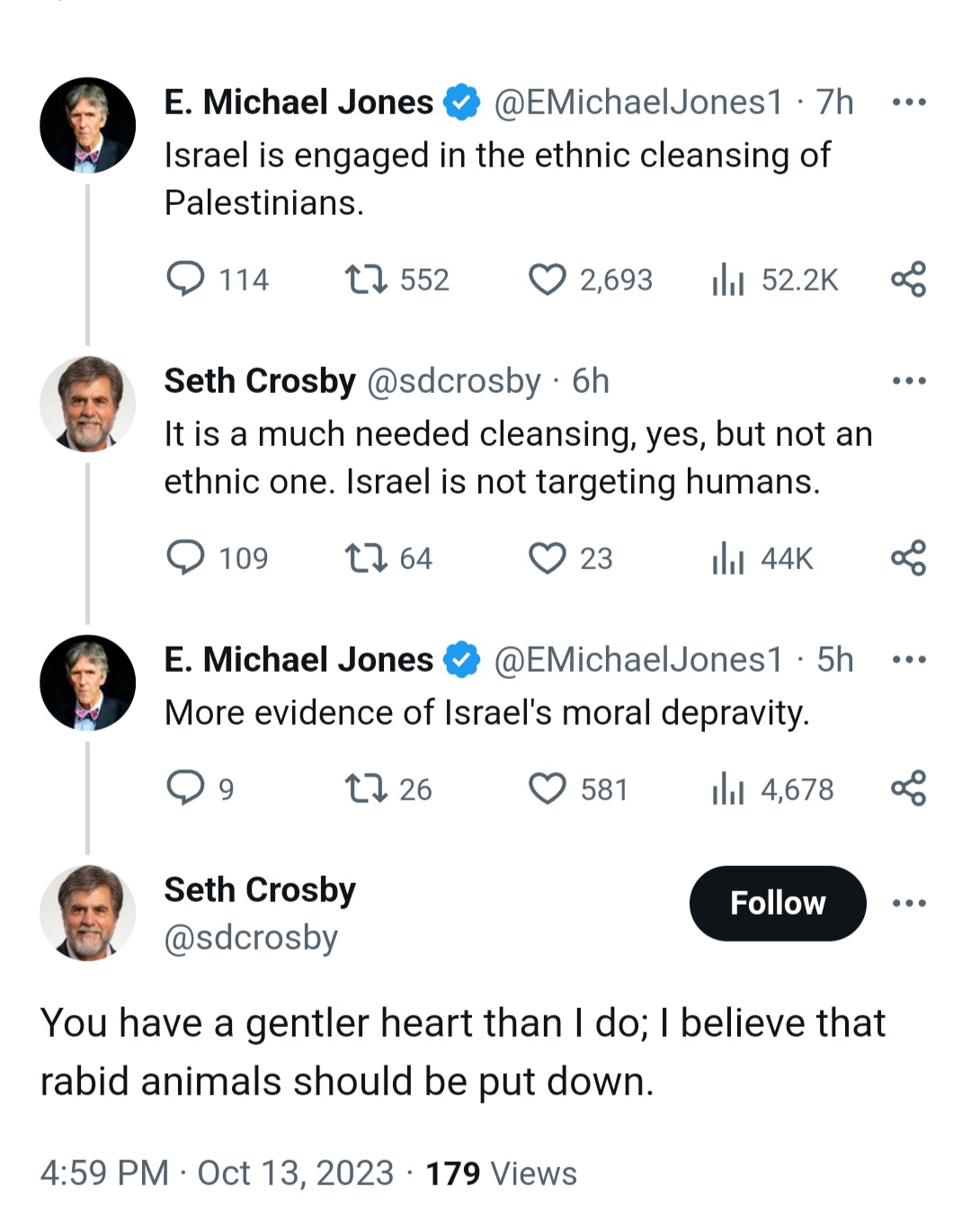 MORE: Terror against Israel reveals the critical-theory Left's true colors
Newsweek reports a WashU spokesperson said Crosby was still employed as of last weekend. However, despite being listed as a professor of genetics, Crosby's university profiles were "wiped" on October 15.
The spokesperson said she "was not able to provide further information" when asked if WashU planned to fire Crosby. "We are following up as appropriate, according to our policies and processes," she told the student paper Student Life.
From the Post-Dispatch article:
The Missouri chapter of the Council on American-Islamic Relations condemned Crosby's social media post in a statement.

"It is unconscionable that a professor at a Missouri institution of higher education would allegedly call for the ethnic cleansing of any population and would seek to dehumanize the target of that crime against humanity," said CAIR-Missouri Board Chair Yasir Ali.

CAIR-Missouri, Muslim-Americans for Palestine, Jewish Voice for Peace and others led a protest for Palestine on Sunday afternoon at Kiener Plaza in downtown St. Louis. …

[CAIR-Missouri Secretary Komel] Choudhary said the professor's social media post was part of a broader wave of hate against Muslims. CAIR-Missouri told people at the rally experiencing racial prejudice or Islamophobia to contact the group, which advocates for Muslim-American civil rights.

"Even professors at prestigious institutions right here in St. Louis have voiced negative and dehumanizing remarks about Palestinians," Choudhary said.
Many reactions to Crosby's tweets on X were not sympathetic:
Your silence condones Seth Crosby's genocidal rhetoric. Neutrality is the side of the oppressor.

— Rachel (@jerrytysons) October 17, 2023
@WUSTL I'm unable to find Seth Crosby on social media. He must be getting too much attention for his statement on ethnic cleansing and closed his account. Do you agree with his ugly statement?

— Baba Jaga 🌹 (@babajaga63010) October 17, 2023
Seth Crosby must be terminated from his position immediately.

— Emrys (@anarchemrys) October 17, 2023
I've emailed the WashU Board of Trustees, chancellor, vice chancellor, other WashU staff, & St. Louis local news stations about Seth Crosby's violent/racist rampage re: #Palestine

I'm happy to fwd my email to anyone else who wants to join me in holding #SethCrosby accountable.

— kelcie (@Kelcie_XOTWOD) October 17, 2023
MORE: Columbia student groups back Palestinians, demand school cut ties with Israel
IMAGES: Ron, Amina/X
Like The College Fix on Facebook / Follow us on Twitter