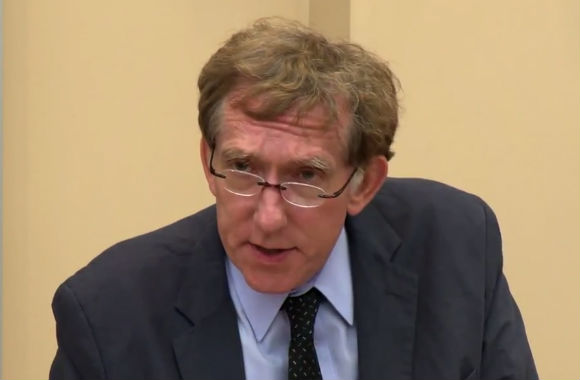 Report: He's resigning after next year
Paul Griffiths spoke a little too freely when he responded to a professor's faculty listserv invitation for "racial equity" training at Duke Divinity School (DDS) three months ago.
The professor of Catholic theology told his colleagues not to "lay waste your time" with the training, which he predicted would be full of "bromides, clichés, and amen-corner rah-rahs":
When (if) it gets beyond that, its illiberal roots and totalitarian tendencies will show. Events of this sort are definitively anti-intellectual. (Re)trainings of intellectuals by bureaucrats and apparatchiks have a long and ignoble history; I hope you'll keep that history in mind as you think about this instance.
Now he's the subject of two disciplinary proceedings – one for "unprofessional conduct" and one for "harassment" – and he is reportedly resigning after the 2017-2018 academic year.
Rod Dreher at The American Conservative obtained documents related to the dispute over the weekend, reprinting a recent open letter from Griffiths to the DDS faculty and the February email chain that started his problems.
After his acerbic response, Griffiths' dean Elaine Heath responded on the listserv that it was "inappropriate and unprofessional" for him to publicly "humiliate or undermine" his colleague who sent the invitation, Prof. Anathea Portier-Young:
The use of mass emails to express racism, sexism, and other forms of bigotry is offensive and unacceptable, especially in a Christian institution.
Thomas Pfau, an English professor with a secondary appointment in DDS, then responded in defense of Griffiths. Pfau has "witnessed first hand a dramatic increase demands made on faculty time by administration-driven initiatives fundamentally unrelated to the intellectual work for which faculty were recruited by Duke":
Having reviewed Paul Griffiths' note several times, I find nothing in it that could even remotely be said to "express racism, sexism, and other forms of bigotry." To suggest anything of the sort strikes me as either gravely imperceptive or as intellectually dishonest.
Following this, Griffiths released his open letter divulging that Dean Heath brought the "unprofessional" charge against him and Portier-Young, the "harassment" charge.
He gave his factual account of what is happening, comparing it to the Title IX "inquisition" described by Northwestern Prof. Laura Kipnis in her new book Unwanted Advances:
These disciplinary proceedings are designed not to engage and rebut the views I hold and have expressed about the matters mentioned, but rather to discipline me for having expressed them. Elaine Heath and Thea Portier-Young, when faced with disagreement, prefer discipline to argument. In doing so they act illiberally and anti-intellectually; their action shows totalitarian affinities in its preferred method, which is the veiled use of institutional power.
Griffiths claims that Heath suddenly canceled a planned four-person meeting in March to discuss her concerns, demanding that he exclude Pfau as his support person. When he refused and they couldn't agree to meeting terms, she revoked his research and travel funds and banned him from attending and voting in faculty meetings.
A letter from Heath reprinted by Dreher also says Griffiths has shown "inappropriate behavior in faculty meetings for the past two years." (Griffiths' open letter says he has done nothing more than discussed what role diversity – "racial, ethnic, and gender identities" – should play at DDS.)
The harassment complaint by Portier-Young – alleging racist and sexist speech by Griffiths – went through the Office for Institutional Equity, which refused to give Griffiths "a written version of the allegation" or "evidentiary support" ahead of a March meeting.
Griffiths told the office that Portier-Young's complaint was "an attempt to constrain speech by blunt force rather than by free exchange," and he would not "participate further" in the proceeding:
To do so would be inappropriately to dignify a procedure that has no place in the life of a university.
Griffiths said OIE discipline against him could "range from nothing to dismissal, with intermediate possibilities." In an update to his Sunday night post, Dreher writes that "a source close to Griffiths" has confirmed the professor is resigning after the following academic year. (The professor has not responded to College Fix queries.)
According to a Dreher reader at DDS, another professor cited by Griffiths in his open letter, Valerie Cooper, spent two class sessions discussing the listserv emails as an example of "how much racism she had to deal with from some of her white male colleagues":
While she blacked out Griffiths' name in almost every instance, people could tell from the style and diction that these were emails from Griffiths. Though if it weren't clear enough already (and it was) she forgot to black out his name on the last page. It was the very nadir of professionalism.
Cooper herself wrote in a friends-only Facebook post, captured and posted on The American Conservative, that she embraced the term "social justice warrior" and that Griffiths had violated DDS policy by "being against diversity":
It is academic malpractice. If you can't abide by Duke's policies, you shouldn't work for Duke.
The communications department at DDS has not responded to a Fix query. Dreher says he has heard from readers inside DDS that vouch for the intellectual and bureaucratic climate that Griffiths describes.
Read Griffiths' open letter, Cooper's comments and the February email chain and Heath letter.
Like The College Fix on Facebook / Follow us on Twitter
IMAGES: Franciscan University of Steubenville/YouTube, Duke Divinity School