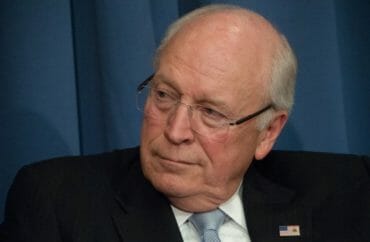 Our 46th vice president, Dick Cheney, served eight years as President George W. Bush's second, a decade in the House of Representatives, and stints as White House Chief of Staff and Secretary of Defense.
Somehow, however, this does not qualify him to speak at Cornell University according to a professor of educational studies at nearby Colgate University.
In a letter to The Cornell Daily Sun, Barbara Regenspan chides the president of the Cornell Republicans, Austin McLaughlin, for omitting in a Sun story that Cheney "masterminded a disastrous war based on the known lie of Iraq's possession of 'weapons of mass destruction,'" and which killed "at least 460,000 mostly civilian Iraqis":
In response to the implied lack of meaningful conversation at Cornell, I have an alternative "conversation" to propose: Should Cornell continue to pick up the large share of security fees related to Cheney's visit? Cornell's fee-paying parents ought to converse with administrators about deducting from the fees they pay this year the share that provides security for Cheney and other extremist demagogues who speak on campus based on the vapid justifications of one uninformed student.
According to that Sun story, aside from the Cornell Republicans, the vice president's visit is being funded by the CR's donors as well as the Young America's Foundation.
Interestingly, Dr. Regenspan did not send in a complaint letter when it was announced that our last vice president, Joe Biden, was to speak at Cornell's convocation last year. After all, Mr. Biden supported the invasion of Iraq, Regenspan's dubious terminology ("known lie") notwithstanding.
The professor did write a letter, however, berating Cornell for hosting Rick Santorum in late 2016 (he's an "extreme Islamaphobe, climate change denier, homophobe and sexist"), and was quoted in a Sun article belittling the former Pennsylvania US senator's intellect.
Ironically, Santorum holds an MBA and law degree, while Professor Regenspan has attained that most "esteemed" rank of … Ed.D.
According to her Colgate faculty page, Regenspan is interested in "social justice-focused teacher education" and her courses "bridge teacher education and foundations of education because of their social reconstructionist content."
"In the past few years, though," she writes, "I have come to conceive of the all curriculum as haunted by the ghosts of people and ideas that have been rubbed out as part of the process of justifying an economic system that perpetuates our non-sustainability crisis."
Just what we need in teacher education these days, eh?
MORE: Prof dresses as Cheney for Halloween, pretends to shoot up class
MORE: VP Cheney interrupted by protesting students, called 'war criminal'
IMAGE: Albert H. Teich/Shutterstock.com
Like The College Fix on Facebook / Follow us on Twitter