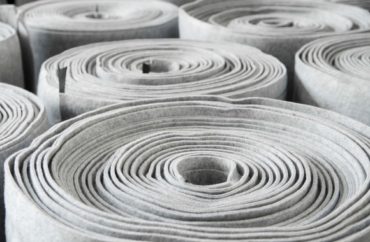 Critic calls research 'postmodern word salad'
University of Toronto scholar Stephanie Springgay's newly published research alleges that there is more to felt, the material, than typically perceived.
In her paper, "'How to Write as Felt': Touching Transmaterialities and More-Than-Human Intimacies," published online in late July by Studies in Philosophy and Education, Springgay suggests that felt, a "dense material of permanently interlocking fibers," can be linked to racism and capitalism.
"[T]his paper addresses 'the problem of education' that is predicated on cis-heteronormative White supremacist settler colonial logics that assume knowledge enters from an outside, that is predicated on progress, and that regulates and violently disavows particular bodies," it states.
"Felting as a posthuman proposition demands that we stop thinking broadly about … education. Instead we need to consider intimate transmaterial touching relations that do not intensify settler colonial mastery over human and nonhuman life," the paper adds.
Springgay is an associate professor in the Department of Curriculum, Teaching and Learning at the University of Toronto, according to her curriculum vitae; and from 2004 to 2009, she worked as an assistant professor in visual arts and women's studies at Penn State University.
Her online bio states her research focus includes "feminist new materialism, queer theory and the inhuman, research-creation, methodologies, and affect theory."
As to her theories on felt, she further explains in her paper: "In felting, wool fibres co-mingle and enmesh and evoke what Barad (2012) refers to as a queer self-touching. When we touch ourselves, she writes, we encounter an uncanny sense of the stranger or otherness within the self. Using quantum theory to shape a theory of self-touching, Barad explains how a particle touches itself, and then that touching subsequently touches itself, releasing an infinite chain of touching touches."
With that, Springgay adds, "… 'How to write as felt,' as a more-than-human proposition is an invitation to leap inside the movement of the fold, to become involved in a practice of intense agitation and difference. Felting is a stretching out, a space of encounter where thinking-making-doing extends beyond fragile boundaries, beyond frayed and indeterminate edges, expanding in the fluidity of the smooth. It is to write, or rather event research-creation, in a continuous present, as the power to begin again, infinitely touching."
The entire paper runs 11 pages plus two full pages of references, in which she cites her own previously published work 13 times, including her 2008 piece "Body Knowledge and Curriculum: Pedagogies of Touch in Youth and Visual Culture" and her 2017 co-authored paper "Stone Walks: Inhuman Animacies and Queer Archives of Feeling."
Who funds her research?
Springgay received funding from the Social Sciences and Humanities Research Council of Canada for her felt research, she states in the paper. According to her curriculum vitae, Springgay has received $1,244,992 from the council since 2011 for research on various topics.
The University of Toronto did not respond to a request for comment from The College Fix.
Meanwhile, Springgay's research caught the eye of a Twitter account that examines and critiques scholars' published research called "New Real Peer Review." The account, run anonymously, first noticed the paper and dismantled Springgay's research, calling her paper a "postmodern word salad."
When you don't know what to write about and end up with a postmodern word salad. https://t.co/YBSskcfISr pic.twitter.com/qSYB2fCZ9S

— New Real Peer Review (@RealPeerReview) July 28, 2018
In her paper, Springgay explained that this form of writing is more like "the practice of making art or making something, and the doing of research. This I also refer to as a thinking-making-doing." Real Peer Review dismissed it as "vomit worthy scholarship."
Vomit worthy scholarship. pic.twitter.com/hchSxnu9om

— New Real Peer Review (@RealPeerReview) July 28, 2018
New Real Peer Review also weighed in on Springgay's discussion on the "frictional force of felting."
"It's a hot and messy piece of something," the account also joked when Springgay referred to her paper as "like the felting process—messy, wet, and knotted."
The account went on to "thank" the people who funded the research.
"Thank the Canadian taxpayers for these fascinating new insights," the account said.
How much did they pay just in external funds? This must hurt. pic.twitter.com/SJecw0O4Sz

— New Real Peer Review (@RealPeerReview) July 28, 2018
When asked about the criticism she received, Springgay's automatic email system informed The College Fix that she is at a conference for the next two weeks and will be slow to respond to emails.
MORE: University denies 'official' relationship with trans-hippo scholar
IMAGE: Yanin Kongurai / Shutterstock
Like The College Fix on Facebook / Follow us on Twitter