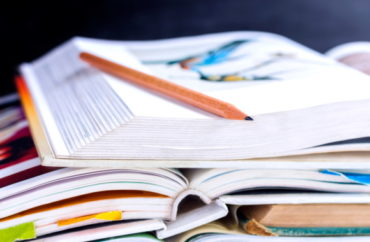 ANALYSIS: Professor pens crass but clever how-to guide for students
If famed comedian George Carlin were to write a book on practical steps young people can take to successfully get in and get out of college with a degree, it might look a lot like Arizona State University information systems Professor Matthew McCarthy's new book "How to Avoid Fucking Up in College."
McCarthy, who told The College Fix his claim to fame is that he teaches the largest class at the largest public university in the country — "I'll have 4,000 first-year freshmen in my classes this fall" — published the book over the summer with the goal of giving students advice he wished he knew when he was younger.
Consider the first chapter is titled: "How I Failed Out of College, Twice." But McCarthy's self-deprecation is a lead up to applying the lessons he's learned as both a student and professor to help the next generation succeed.
The most successful students are "selfish," McCarthy told The College Fix in an interview: "They think about their own education, they lay low, and they have a side hustle."
McCarthy rejects the belief that today's college students are "entitled little shits," another of his chapter's titles.
"College kids are exceptional — they are amazing," the professor told The Fix.
In his book he points out that "I've run into one or two little shits over the past couple of decades, but way less than you'd think. Today's college students are astonishing … the future is bright."
McCarthy, in the book's introduction, points out that "college is a significant investment but with an important caveat: you need to graduate from it to reap the benefits." The problem is, he adds, far too many students drop out.
His book offers short, straightforward chapters that tackle all the possible bumps along the road, such as:
"Will you get a shitty professor in college?"
"Should you double major?"
"Do mature students fail too?"
"Should you take out a student loan?"
"Nothing good happens after midnight"
"What if you just plain suck at exams?"
"What are the best study tips I've ever heard?"
But if students need a Cliff Notes version of his advice, McCarthy told The Fix it's to "lay low" and "go to class."
Another pointer from the professor is to not get too caught up in things that distract from the primary goal of earning a degree — no matter how unavoidable it might appear.
The campus political and culture wars seen today are a "seductive" distraction, he said.
"Everywhere is a distraction" on a college campus, McCarthy said: "You don't need motivation in college — everything motivates you in college. You need discipline."
At the same time, the professor said he is realistic and recognizes the reality of a college lifestyle. The individual must work to find that perfect balance, he said.
"In fact you can set your schedule up to party your ass off every night by taking classes that start at three in the afternoon," McCarthy said. "All my advice in my book is practical."
"I'm not political," McCarthy told The Fix.
The information systems professor added that he tells his students the following: "My politics are none of your business and yours are none of mine."
It's not just with students, he added.
"I see teachers all the time coming out of university – saying 'first day teaching; going to save the world,' and that makes me bristle," he said, adding teaching algebra has nothing to do with saving the world.
More often than not, the professor said, politics have no tangible value with regard to an undergraduate education, and therefore winning a political argument can be a trivial victory.
The most successful students, he said, are the ones you don't see because "they are not making any noise." Such students are not at rallies or protests, they are doing their schoolwork or making money, he said.
One example the professor offered came during the height of the pandemic, when online lectures were conducted via Zoom. One student had a boatload of sneakers in the background. It turns out that that student bought and sold shoes online as part of an e-commerce business and reportedly raked in $1,200 per month doing that.
Another topic he emphasizes in the book is the viable community college option, with a chapter titled "Do Community Colleges Suck?" In short, no.
"Community colleges are amazing," McCarthy told the Joe Vore Podcast, noting the scholars who teach there are bright and talented and dismissed naysayers who suggest community college is full of "slackers."
"Well, no kid of mine is going to go to Scottsdale Community College, my kid went to Villanova," he said in a mocking tone.
"Who gives a shit? What is the outcome when you get the degree? That's what really matters."
MORE: Encourage work, not student loan debt
IMAGE: Shutterstock
Like The College Fix on Facebook / Follow us on Twitter