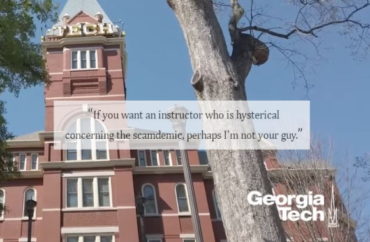 A Georgia Institute of Technology math professor recently took heat for his COVID "scamdemic" comments on his syllabus, but remains a professor as his employers defended free speech.
Longtime Associate Professor of Math John McCuan wrote on his spring semester syllabus:
"If you're sick, stay home. Don't pass what you've got around to others. If you want an instructor who is hysterical concerning the scamdemic, perhaps I'm not your guy. I would hope you're not going to complain about me not wearing a mask. I hope you're not going to complain about me not being injected with experimental pharmaceuticals. A little bit of critical thinking would save you from such pitfalls."
Georgia Institute of Technology does not require masks or COVID-19 vaccines, but strongly recommends them. The policy adds: "No student, faculty, or staff member should be treated differently based on their Covid-19 vaccination status."
The Atlanta Journal-Constitution reports that McCuan faced backlash for his "scamdemic" comments.
"The remarks have drawn a large number of complaints on social media. Many have denounced his views and called for his removal. Critics say McCuan's views run counter to the school's reputation as a world-renowned research institute that has created its own COVID-19 test," the Journal reports.
One Georgia Tech alumna told the Journal that McCuan is engaging in "scientific disinformation" and doesn't want him teaching: "Hearing individuals in a research institution in a place of power supporting these conspiracy theories is dangerous."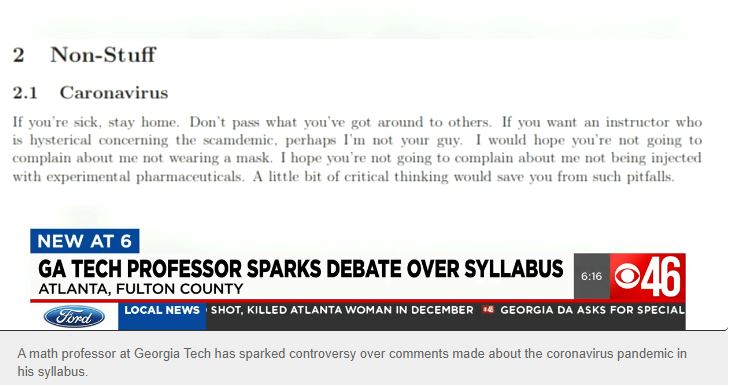 McCuan did not respond to The College Fix's requests for comment. In a statement to CBS, McCuan said: "I wanted to make it clear to my students that their health decisions are none of my business particularly and that they need to think for themselves (as far as I am concerned)."
"I did happen to mention my own personal health decisions. These also are no one else's business as far as I am concerned, but obviously there are many many administrators (and others with control issues) who are very forward to make these decisions of mine their business."
Asked for a statement on the matter, Blair Meeks, assistant vice president of external communications for Georgia Tech, told The College Fix via email that it "is critically important in an academic environment to encourage the free speech and academic freedom necessary to maintain a robust marketplace of ideas for discovery and development."
"At the same time, we must provide an environment for student success in the classroom. In the interest of the health and safety of our community, Georgia Tech has encouraged masking and vaccinations for all members of our community, but it does not require them."
According to his CV, McCuan has been a faculty member of Georgia Tech since 1999 having earned his PhD from Stanford University in 1995.
IMAGE: University censors professor's syllabus for his controversial native land acknowledgement
Like The College Fix on Facebook / Follow us on Twitter