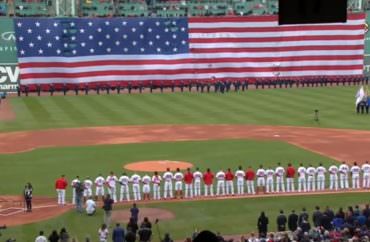 Calls it 'militarized, masculinity-heroicizing patriotism'
A feminist scholar attending a baseball game at Fenway Park declined to clap as a veteran was honored, cringed when the American flag was unfurled, and would not stand when the rest of the crowd did so to sing "America the Beautiful."
This was her personal way of protesting the patriarchy and what she calls "militarized, masculinity-heroism patriotism."
Dr. Cynthia Enloe, a woman's studies professor at Clark University, recounted her experience in recently published essay.
"Around the 6th inning, during a lull in the action, the Fenway announcer drew our attention to the Jumbotron, where we saw a giant version of a middle-aged white man who, in human proportions, was with us in the stands. He was identified as a veteran of recent U.S. wars. Invited to give him a hero's welcome, a wave of grateful applause erupted. I sat stingily on my hands, still saying nothing," she wrote.
Enloe also wrote that, during the bottom of the eighth, she also chose not to stand when others around her did for a rendition of "America the Beautiful." She added that she also cringed when a large American flag was unfurled at the start of the game, but did begrudgingly stand for the National Anthem.
Enloe, an award winning theoretical feminist, goes on to criticize the notion of gratitude as a feminized virtue, and the roundabout role that professional sports plays in promoting the "patriarchy."
"Patriotism, especially militarized, masculinity-heroicizing patriotism, is escalating at American sporting events. It may be most prominent at NFL games and NASCAR races, but it is in full bloom at most major league baseball games—not just the national anthem, but also the ubiquitous lauding of military personnel, and additional patriotic songs in the middle of the game," she wrote.
She added that although she still loves professional baseball, today she is "far more conscious of the insinuation of militarized patriotism into the game, and, more discomforting, the likelihood that as a fan, I am complicit in that risky process."
Enloe argued in her piece that gratitude is often feminized and thus becomes an extension of dependency for women.
"Women, therefore, are popularly expected to be grateful to men and to the masculinized state for offering them militarized protection," Enloe wrote. "In a militarized society, a woman who refuses to express that gratitude (staying seated when the male veteran is being cheered) risks being deemed unfeminine."
"… Sentimentality, entertainment, appreciation and gratitude—each are routinely gendered. To the extent that all four can be mobilized to serve masculinized militarized patriotism, patriarchy will be perpetuated."
In an email interview with The College Fix, Enloe explained that the effects of militarism can have other significant sociological consequences, saying prejudiced versions of masculinity are more prevalent in militarized societies, which can harm women.
"Certain brands of masculinity become more privileged than others (legitimizing homophobia and racism); simultaneously, idealized women may be hoisted on to symbolic pedestals during those years, but actual girls and women find that their paths to their civic equality, as well as personal maturity and creativity shrink," she wrote to The Fix.
"I now wonder if many male fans would become uncomfortable if, instead of military uniformed personnel, it was volunteers at the local domestic violence center who were chosen to be the flag carriers at the opening of a baseball game? What would women and girls in the bleachers think?" Enloe wrote in her email.
MORE: Feminist to hold martial-arts workshop to fight 'hyper-masculinized' journalism
Like The College Fix on Facebook / Follow us on Twitter
IMAGE: Via YouTube