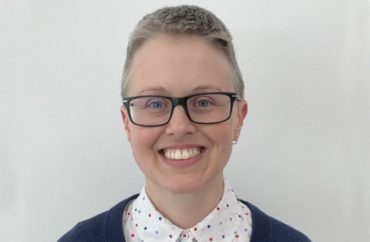 Former English professors criticize rewriting of history
The National Endowment for the Humanities recently awarded a University of Wisconsin-Milwaukee professor $6,000 for a book "theorizing Victorian gender identities through literature and authorial biography."
The book argues that we must "fundamentally" reevaluate our understanding of "nineteenth-century gender to account for the possibility of movement between, across, and among genders," according to the grant summary.
The taxpayer-funded grant will help Professor Lisa Hager (pictured) write about "the possibilities of trans narratives within the diversity of gender identities represented through Victorian literary culture," and discuss how the "binary discourse of gender necessarily reveals its own contradictions in the form of bodies and genders that refuse to fit into one of only two gender identities."
Hager is the director of the LGBTQIA Resource Center at the public university in Milwaukee. She teaches courses on English and gender as well as sexuality and women's studies.
The new book fits with Hager's other research, including articles on trans and queer studies, Victorian sexology, steampunk as well as an article on "female husbands" in Victorian literature.
The College Fix reached out to Professor Hager to ask for a timeline for the book's publication as well as a preview of the content. She did not respond to two emails sent in the past week and a half.
MORE: College course teaches students about 'queering the Bible'
The Fix reached out to Mark Bauerlein, emeritus English professor at Emory University and senior editor of First Things journal, for comment. He stated that "what stands out to me in the grant is the utterly predictable, cliched, routine hackers of the project. This has been going on since 1990, and they are still talking about it as if it were cutting-edge."
The Fix asked Bauerlein what should be made of reimagining literature in a way that incorporates transgenderism. He replied, "there is a word in your question, Aly, that doesn't fit: 'reimagining.' In truth, there is no reimagining or imagining going on in this project at all, no imagination involved."
He went on to say that "gender theory, queer theory, [sexuality] studies… they captured the humanities three decades ago, and the turn to trans issues doesn't move it forward one bit. The thesis of 'constructed identities' has been asserted 5,000 times."
"The language of 'reconceptualize,' 'possibilities,' 'diversity,' 'oppositional,' 'binary,' and 'refuse to fit' is a great big cliche," he wrote. "What a bore."
The College Fix also reached out to Graham Hillard, managing editor at the James G. Martin Center, and asked how professors should approach the teaching of literature and whether it should be updated for current times or read as written. Hillard is a former English professor at Trevecca Nazarene University.
Hillard stated that "the search for transgenderism in Victorian literature is about as profitable as reading Jane Eyre to learn about smartphones."
"We won't find contemporary inventions in old books," Hillard told The Fix.
MORE: Portland State University offers 'queering ecologies' class
IMAGE: University of Wisconsin-Milwaukee
Like The College Fix on Facebook / Follow us on Twitter