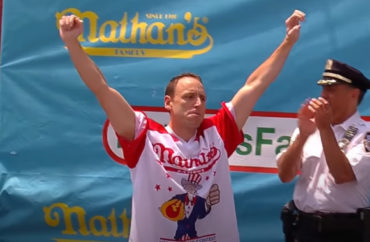 A professor at High Point University in North Carolina has released a study of how many hot dogs a human being can possibly eat in a ten-minute time span. Using data from 39 years of the traditional Nathan's Famous Hot Dog Eating Contest, Dr. James Smoliga has determined that 83 hot dogs is the most a human can consume in that time period.
"Dr. Smoliga's calculations show that when adjusted for body mass, the world's most competitive hot dog eaters could outeat a grizzly bear or a coyote, as measured by the amount of food per unit of time," wrote the New York Times, although the paper added that "Humans do not come close to eating as much as the Burmese python, which can consume up to 75 percent of its body weight in a single meal."
"The maximal limits of human performance are a perpetually interesting, interdisciplinary topic of scientific discourse," writes in his study, adding, "Digestive system capacity is not typically explored as a measure of human performance, but the ability to consume and digest large quantities of food is advantageous if resource availability is unpredictable."
After watching hot dog eating champion Joey Chestnut break his own eating record year after year, Smoglia grew interested in what the upper limit of human encased meat endurance would be. Over the most recently 4th of July weekend, Chestnut consumed 75 hot dogs, winning for the 13th time. Miki Sudo won her seventh straight women's championship by eating a record 48.5 hot dogs. (Sudo also holds world championships in eating kimchi, hotdish, and ice cream.)
In making his calculations, Smoglia used an existing formula by Stanford researchers that figured the limits of running speeds for dogs, horses, and humans.
But not all academics are buying Smoglia's inter-species calculations, arguing that normal eating habits, of, say, snakes, are different than abnormal human eating habits in contests.
"It's nice to make a comparison amongst species, but I don't know if it's exactly the same," said Annelies De Cuyper, an animal nutritionist at Ghent University in Belgium, to The Times. "If you put them all together in a contest, I don't know who would win," she told the paper.
Read the full study here.
MORE: How schools can get college students to eat less meat and more vegetables
IMAGE: YouTube screen grab
Like The College Fix on Facebook / Follow us on Twitter