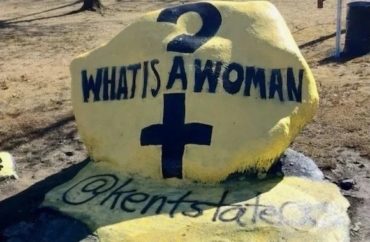 Late last month the Kent State University College Republicans painted "What Is a Woman?" on a free speech-style campus rock noted for being "graffitied" from time to time.
The message coincided with the group's showing of the Matt Walsh documentary by the same name.
According to KentWired.com, an Instagram post showing the painted rock led to a "backlash from the LGBTQ+ community and other students on campus who say the film and its promotion encourages anti-trans discrimination."
In a somewhat contradictory statement, Kent State LGBTQ Studies Professor Lauren Vachon (pictured) said the issue isn't about the First Amendment:
A value that this community has and shares is a value of freedom of thought, speech and expression and that's super important to protect. So I think it's not to say [. . .] you can tell a group that they can't bring the documentary, although it has been banned from platforms for being considered hate speech. We know that the intent was antagonism. I do think there should be consequences for that. It's not about free speech.
Vachon, who according to her Linkedin profile is a "queer activist and educator" with research interests in "LGBTQ history, queer pedagogy […] and collecting queer oral histories," added that she's  been "very frustrated" at the promotion of "antagonism against the LGBT community."
MORE: Kent State U. has achieved six percent of its 'anti-racism' goals
"The natural consequences of this kind of antagonism toward the LGBT community is what's happening, which is student outrage and planned protests and change.org petitions and pressure on the administration to address it, and […] protect[ing] LGBTQ communities who feel unsafe in this kind of political environment," Vachon said. "Those are consequences that are happening, and I think that's all super appropriate now that students know about it."
Indeed, a week ago Kent State senior Marina Difranco started a Change.org petition titled "Stop Hate Speech from Kent State Republicans." It accuses the College Republicans of "using its platform to encourage discrimination and hate crimes against LGBTQ+ students and women" and says Walsh's documentary "invalidates the queer, non-binary, and trans experience."
The petition, which currently has 2,362 signatures of a requested 2,500, also noted the CRs had joked about how the campus LGBTQ+ center "may call in the National Guard" for the group hanging posters there (a reference to the 1970 campus shootings), and how the group noted that they are in a "war."
At least Difranco does acknowledge that, in the United States at least, the First Amendment does protect so-called "hate speech": "Due to the reality that the right to free speech protects hate speech, the university does not consider there to be sufficient evidence to prove that this hate speech will illicit violence."
Three years ago Kent State faced a similar situation when someone painted "White Lives Matter" on the rock. Some on campus said the phrase was a "direct threat to black students" and the university president claimed the painting "serve[d] as glaring evidence that th[e] university and our country need to do better when addressing racism and violence against Black Americans."
MORE: Judge slaps down Kent State for using heckler's veto against gun-rights event
IMAGES: Change.org, Kent State U. screencaps
Like The College Fix on Facebook / Follow us on Twitter