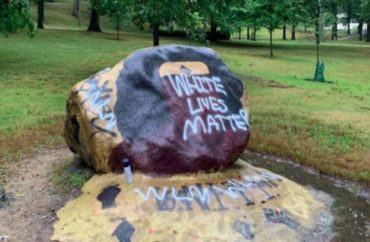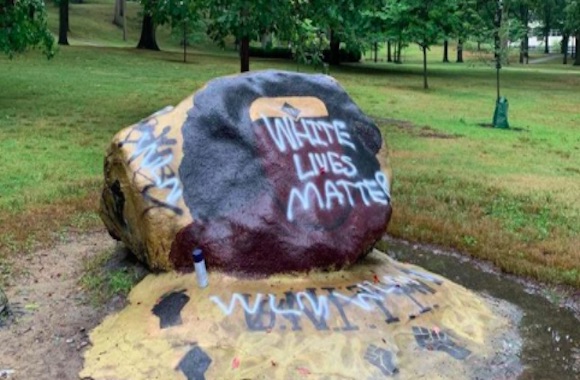 During the last week of August, someone had the audacity to paint the slogan "White Lives Matter" on Kent State University's "front-campus rock" … leading to some in the campus community to label it a "direct threat" to black students.
According to Kentwired.com, the slogan covered over Black Lives Matter slogans which had been scrawled there days before.
The rock "historically" has been available for anyone to write messages.
But according to the Anti-Defamation League, "White Lives Matter" is a "white supremacist phrase that originated in early 2015 as a racist response to the Black Lives Matter movement."
Marteashia Thompson, president of the student group Voices of Color, said "White Lives Matter" does not "represent unity" and "isn't an inclusive slogan at all." She added "This isn't something to uplift Caucasian Americans. This is only a term and rebuttal to the Black Lives Matter movement."
Kent State President Todd Diacon said the incident, along with the recent shootings of several black individuals by law enforcement, "serve as glaring evidence that this university and our country need to do better when addressing racism and violence against Black Americans."
In the same message, Diacon said the university would establish an Anti-Racism Task Force which will "explore all facets of racism at Kent State."
Black United Students [BUS] president Tayjua Hines said she anticipated an incident like the rock painting would occur on campus given the BLM protests over the summer and the racial unrest that began after the death of George Floyd in Minneapolis. Hines said painting the rock with discriminatory words was only a surface-level act in comparison to the daily adversities students of color face on campus. She said she would not respond to those who painted the rock.

"I will not try to waste my energy trying to speak to someone who clearly doesn't care about my life, and clearly doesn't care about what I have to say," Hines said. "They said what they had to say. My only question[s] would be 'why did you do it in the dark? Why weren't you bold enough to do it when everyone could see you?'"
Last week, roughly a dozen Kent State students showed up to protest the "White Lives Matter" graffiti. Kentwired.com reports the demonstrators received accolades from passing drivers for their signs which read "Use your privilege to listen to the oppressed," "Honk if you agree Black Lives Matter" and "Not today Karen."
Freshman Sarah Mowder said the "best way" to learn about Black Lives Matter is to visit the movement's website: "The most patriotic thing you can do is see a fault in your country, and try to fix it."
Read the Kentwired.com articles.
MORE: 'Non-white' HS student admits to 'White Lives Matter' graffiti
MORE: Law prof: Texas A&M has no legal grounds to block 'White Lives Matter'
IMAGE: Twitter screencap / Kentwired.com
Like The College Fix on Facebook / Follow us on Twitter