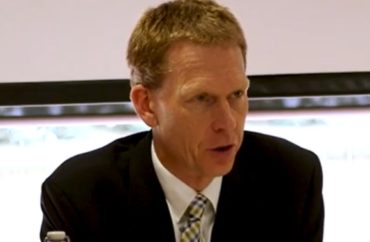 'Academics can't complain that no one trusts them anymore when their own writing style sows the seeds of distrust'
A Portland State University professor said that "junk citations" have created a trust issue in higher education.
Political scientist Bruce Gilley laid out his criticisms in a five-part series at Minding the Campus and also spoke to The College Fix about this ongoing problem.
According to the article series, a junk citation refers to a reference that is "wrong, irrelevant, misleading, corrupt, uninformative, useless, or purely rhetorical."
"The reason why junk citations are a problem is because scholars are not being encouraged to go and read the stuff they are citing, tell the reader what they are finding, how it's done, and whether it's even replicable," Gilley (pictured) told The Fix in a phone interview. "People think they can just throw out 'the research is very clear on this, the evidence is so clear,' but it is all built on junk citations."
He has also lectured on this topic and said he has been guilty of "junk citations" in the past.  In his lecture he shared an example of an own paper he wrote in 2008 that had "junk citations" in it and said he felt "ashamed" looking back on it.
The results can be deadly too – Gilley gave the example of a five-sentence 1980 letter in the New England Journal of Medicine that alleged "the development of addiction is rare" when it came to narcotics. This letter was widely cited "to support the claim that addiction was rare in patients given opioids," Gilley wrote, citing the work of four Toronto-based academics.
The letter seemed to shut down debate on the safety of opioids – a problem replicated throughout academia.
"The reason that bad citation practices have become so endemic in academic research is because of the lack of intellectual diversity in the academy," Gilley wrote in the first article. "Since groupthink is so pervasive, any citations that confirm academics' left-wing biases are rarely double-checked. And so junk piles upon junk."
"A key reason for the well-earned loss of respect and legitimacy of scholars, in addition to the better-known left-wing political and ideological biases driving their research, is the problem of bad citation practices that have created whole research paradigms built upon junk citations," Gilley wrote in Part 1 of the series.
He criticized what he called a "just trust me" basis, where citations are assumed to support the author's argument without any further verification.
However, junk citations have continued to escalate, leading to academic propaganda in research citations. "The citation justice movement has arisen as a parasitic tool," Gilley told The Fix.
In this movement, academic research demands citations of scholars of a specific race, gender, and sexual preference to ensure the citations are citation worthy. This also led to the feminist movement to "cite only women" in academic research.
Gilley also warned about "author-doping," when a scholar cites primarily his own work to bolster his own citation success. There is also "journal-level doping" when a publication cites its own prior work to boost its credibility.
The solution for the issues described by Gilley involves returning actual scientific and open debate on topics.
The professor pointed out in the concluding article that 80 percent of research on pay equity issues is conducted by "female academics who already believe that gender pay differences are caused by sexism and that pay equity policies are a really great idea."
"Yet their evidence is weak to none, and their papers are chock full of citations to each other's 'well-known' findings," Gilley wrote. "The near-total absence of critical debate on this central labor policy has inflated an epistemic bubble that could soar into the stratosphere."
"Scientific progress depends on a contest of ideas, a contest of scholars with diametrically opposing views who have the incentive to scrutinize the work of others, including any citations they use to bolster their case," he wrote. "Absent a pluralism of viewpoints, or paradigms, science is impossible."
Junk citations, from this perspective, are simply the rust on the ship, the encrustation of barnacles and seaweed that grows because the hull is not properly coated," he wrote. This rot can only be fixed with a "thick coating of intellectual pluralism."
MORE: Media treats professor's political garble as academic research
IMAGE: McDonald Centre/YouTube
Like The College Fix on Facebook / Follow us on Twitter