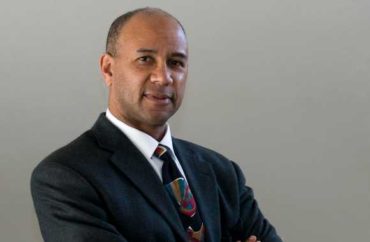 Administrators also claim the professor was terminated after 'he made a threat of violence'
A former communications professor at Indiana University Northwest has sued the university and administrators, alleging he was retaliated against after criticizing university policies and pointing out concerns regarding systemic racism.
But administrators have argued that Professor Phil McPhail, who is black, failed a disproportionate number of students of color and also made an anti-white threat of violence.
"They say I am 'the problem,' and that I have 'a chip on my shoulder,'" McPhail (pictured) told The College Fix via email July 24. "This is textbook racist rhetoric. I know. I literally wrote the book on it."
Most recently, Indiana University trustees filed a legal answer June 27 to McPhail's original complaint, filed in mid-April and alleging retaliation, racial discrimination and breach of contract.
IU officials hired McPhail in 2015 as a professor of communication as well as executive vice chancellor for academic affairs. He resigned from the administrative position a year later but still worked as a professor.
He resigned because his administrative peers allegedly undermined his authority and resisted his attempts to implement certain proper policies, according to the lawsuit.
As a professor, in April 2018, McPhail organized a public forum titled "Diversity: An unfulfilled promise at IU Northwest." The lawsuit states the event highlighted challenges faced by black students on campus, especially in the area of retention, and identified ways the school had failed to support those students.
During the forum, McPhail made the case that "overemphasis on institutional 'diversity' initiatives can obscure or frustrate progress," according to the Foundation for Individual Rights and Expression, which stated May 10 that it "will be closely watching" the suit.
McPhail also alleged in his suit that he faced retaliation for criticizing the administration's process for selecting the new school's dean. He argued that the school had selected a dean without a search or sufficient transparency under university policy and through a process that privileged white applicants for high-status positions, according to the suit. As a result, McPhail alleged, IU Northwest transferred him to IU Bloomington for two years.
The university appointed David Klamen, a white man, as dean of the School of Arts despite McPhail's objections. Klamen is named as one of the defendants in the suit.
"Klamen was appointed to the position without a search and without any transparency in violation of IU's requirement [contained in its "Non-Discrimination/Equal Opportunity/Affirmative Action policy] that it make hiring decisions," according to the suit.
According to the lawsuit, Klamen refused to assign McPhail classes because the communications professor questioned the dean's appointment. The university terminated McPhail shortly after complaining. The suit further alleged the university retaliated against McPhail by reducing his teaching load and salary.
However, the university argued that McPhail faced disciplinary action because of a poor performance review, which found he failed "an alarming number" of students of color.
"Since I do not have access to my records, I do not know if I failed a disproportionate number of students [of color], and have not seen any evidence that supports the university's claim," McPhail told The Fix.
University terminated McPhail's employment 'in a dramatic and humiliating manner'
When McPhail attempted to appeal that decision, IU terminated his employment "in a dramatic and humiliating manner, by sending police to his home with the termination letter," according to the suit. The reason given by the university was that McPhail made a "threat of physical violence" by saying "words to the effect that 'the only way to end racism is to kill all white people,'" according to the answer.
"[D]efendants relied on stereotypes of black men as irrationally angry and violent to exile [him] from the University permanently," according to the suit.
Campus leaders admitted "that the University terminated Plaintiff's employment following the determination that he made a threat of violence that posed a safety risk and violated University policy," according to the response.
"I don't know," McPhail responded to The Fix when asked what he might have said that would have led others to believe he advocated genocide against white people. "I assume it had something to do with the book I was working on, and the issues it revealed about Indiana University's historical treatment of people of color."
McPhail's lawsuit seeks relief that includes reinstatement, compensation for lost salary, emotional distress damages and other damages.
The Fix reached out to Indiana University trustees Ken Iwama, Vicki Román-Lagunas, David Klamen, and the Office of the Vice President for Diversity, Equity, and Multicultural Affairs on July 22. It asked about racial achievement disparities and retention policies at the university, what procedures were used when deciding the terms of McPhail's employment, and who was involved in those decisions. A media representative declined to comment.
MORE: Appeals court approves black professor suing black university for racial discrimination
IMAGE: Greg Theune/Courtesy of Mark McPhail
Like The College Fix on Facebook / Follow us on Twitter