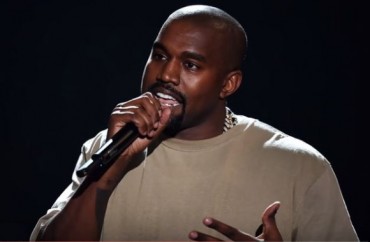 ST. LOUIS – "Alright, let's get this party started," Jeffrey McCune enthusiastically told his students as he began class Thursday afternoon.
The professor's entrance was one signal that an unconventional college course was set to begin. The other was two female students who danced to hip-hop music playing over the lecture hall speakers while waiting for class to start.
Welcome to "The Politics of Kanye West: Black Genius and Sonic Aesthetics," a class that debuted this spring at Washington University in St. Louis.
"Hip-Hop icon Kanye West is many things. Undeniably, he has had unprecedented impact on music, fashion, politics, and videography," reads the course syllabus. "Coupling his controversial moments, with his corpus of musical texts with special focus on sonic production, this course illuminates 'Mr. West' as a case study for interrogating the interplay between fame, gender, sexuality, and race."
In an interview with The College Fix, Prof. McCune said he's always wanted to teach a course on the controversial figure because he's found West to be an artist who incorporates multiple parts of culture into his work.
But despite the class's namesake, the professor said the course "never was and never will be" solely about West. Instead, it attempts to use West as a case study, specifically when it comes to black individuals and "what happens to them" when they become "iconographic."
"How are their lives interpreted, misread, how is their music and contributions misperceived or distorted," said McCune, who is writing a book about West. "Those types of questions have become kind of central to my thinking on the course."
He said the "The Politics of Kanye" isn't necessarily an ode to controversy that surrounds West, who met with Donald Trump a month before the president-elect was sworn into office.
"Politics doesn't necessarily charge the music with anything other than a doing," the professor told his class. "What is the music doing? What is the genre doing? What is the artist doing? When we say the politics of Kanye West, we're not necessarily talking the controversy of Kanye West, that's interesting, but that's not the gist of it, the it of it."
On the topic of "black genius," McCune said the course isn't necessarily claiming West is a genius.
"It's to suggest within the realm of hip-hop, the idea of black genius, actually is somewhat impossible, that black genius historically has been seen as paradoxical," he said.
Using hip-hop music to locate geniuses, McCune said, "is actually a subversive way of accounting for the ways in which blackness or black culture is often demonized and discarded and seen as not as an intellectually robust location."
The course on West, which includes about 70 students from a wide range of majors, involves a two-part structure. Lectures take place on Tuesdays, with Thursdays reserved as a "Critical Listening Party."
Thursday's class included watching a clip of West performing in 1996 and another of him having a meltdown. The second clip shows a heated West responding to criticism, saying he'll be the "best" and that he's going to "come out number one, hopefully."
For most of the class, students analyzed and dissected the two videos, tying them into course concepts like the notion of "genius."
At one point, conversation turned to the cultural conceptions of nervousness and anxiety, with McCune saying society has a tendency to see them as attributes of weakness, insecurity and failure.
Genius is not the ability to exceed and excel all the time, but that "some of the genius of genius, right, is an ability to understand that failure is a part of humanity," McCune said.
Commenting on the meltdown clip, the professor said West works failure into his politics and his way of doing things is "understanding failure as an opportunity."
Aside from the lectures and listening sessions, required course readings include "The Cultural Impact of Kanye West," "Hip-Hop Headphones: A Scholar's Critical Playlist," "On Racial Icons: Blackness and the Public Imagination" and "My Beautiful Dark Twisted Fantasy."
Class topics encompass issues such as "Who is Kanye West and Why is He in the "Flashing Lights," "Power, or Black Masculinity Run Amuck," "Ni**gas [sic] in Paris, or How I am a Cosmopolitan Capitalist."
Students are required to write two essays, one requiring them to focus on "one iconographic Kanye West moment, to discuss how race, gender, and sexuality informs public reading and interpretation of given performance." The second assignment prompts students to answer "How does Kanye West disrupt notions of 'genius?' and 'How does he confound these understandings?'"
After his class Thursday, McCune told The Fix he hopes his students take away the importance of identifying the genius within the black cultural context.
"We're always thinking about blackness as being deficit and deficient," he said. "And I think I want my students to begin to understand that blackness is miraculous and magical and subversive and joy."
McCune also hopes students consume music not only for pleasure, but for information too.
He wants them to learn "that the music itself does have within it things that we can learn, not only about black people but our society at large, some of its inequalities, some of its prejudices, some of its biases," he said.
Lastly, the professor said he'd like students to identify the relationship between hip-hop and other academic disciplines. Hip-hop serves as a "wonderful rich text" for the study of topics covering a wide range of scholarly fields.
MORE: Student argues Kanye could make an awesome president
Like The College Fix on Facebook / Follow us on Twitter
IMAGE: YouTube screenshot