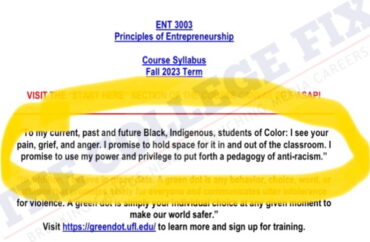 A University of Florida professor makes a pledge to his students of color each year on the top of his syllabus that he will "hold space" for them and embed antiracism into his teaching.
"To my current, past and future Black, Indigenous, students of Color: I see your pain, grief, and anger. I promise to hold space for it in and out of the classroom," writes business Professor Jamie Kraft at the top of his "Principles of Entrepreneurship" syllabus.
"I promise to use my power and privilege to put forth a pedagogy of anti-racism," the statement concludes.
Kraft has placed the pledge atop his syllabus at least since 2021, and put it on his fall 2023 semester syllabus as well, according to a screenshot obtained by The College Fix.
On his fall syllabus, Kraft also touts a University of Florida program called the "Green Dot Map," which tracks actions taken on campus to "communicate intolerance for power-based personal violence," primarily focused on stalking, sexual assault and dating and domestic violence, the university states on its website.
"I believe in green dots," Kraft also states atop his syllabus, adding green dots "make our world safer."
Asked for added context regarding his syllabus, Kraft said in an email to The College Fix the statements are meant "to establish my position with the students on these issues."
"I want them to understand that I am approachable, empathic, and that I will work to create a safe environment in the classroom where possible but am expressly intolerant of racism and assault," he said.
Kraft said his course is the largest entrepreneurship class in the nation and he brings in upwards of 30 speakers throughout the semester.
The guest speakers represent "all walks of life, experiences, backgrounds, majors, political viewpoints … to provide the students with as broad a view as possible of what one can accomplish in the entrepreneurial space."
He said his hope "is that the set of speakers lined-up mirror the makeup of the student body so that everyone feels represented."
Kraft did not explain how he arrived at the conclusion that minority students are in "pain, grief, and anger."
It is also unclear what exactly Kraft's means to "hold space" for students of color, and how that might transpire within his classroom or differ from how he treats white students.
MORE: University censors professor's syllabus for his controversial native land acknowledgement
Like The College Fix on Facebook / Follow us on Twitter