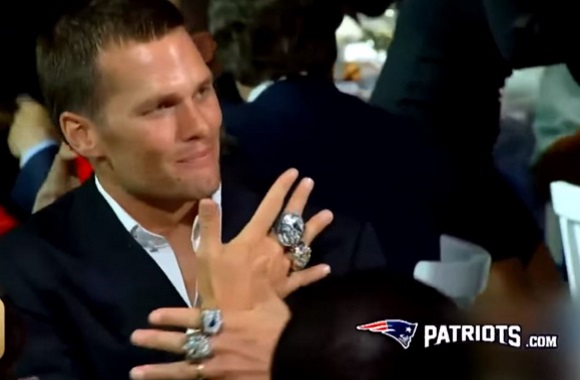 Scholar argues commercial Brady did reminiscent of Nazi propaganda
Tom Brady may be the most accomplished quarterback in the history of the National Football League and boast legions of fans, but it's safe to say that University of Rhode Island Professor Kyle Kusz is not one of them.
Kusz, an associate professor of kinesiology, argues that the New England Patriots' star quarterback's popularity is due to white supremacy and white male rage, and not his six Super Bowl titles, Campus Reform reports.
The article reports on a book chapter Kusz penned titled "Making American White Men Great Again: Tom Brady, Donald Trump, and the Allure of White Male Omnipotence in Post-Obama America," in which he wrote "quarterback Tom Brady has gained popularity due to the 'latest wave of white rage and white supremacy' that he says developed since the Obama presidency alongside a 'disturbing racial reaction among white conservatives in response to the idea that a black man would be [president].'"
Kusz hones in on Brady's media appearances, such as a 2015 commercial for Under Armour, arguing the style of the ad "would not seem out of place in Leni Reifenstahl's infamous Nazi propaganda film, 'Triumph des willens.'"
The professor told Campus Reform:
"I decided to research Trump and Brady's public performances of their white masculinities and how they connect with broader debates about race and gender politics after a student in one of my classes brought the UnderArmour commercial to my attention and it piqued my interest," the professor said.

Kusz also took issue in the chapter with a Beautyrest mattress commercial in which the camera angle is pointed upward at Brady so that the "viewer is compelled to see him as superior," as well as Brady's partnership with "upscale companies" like UGG and Aston Martin.

"In each of these sites, Brady is figured as an unconflicted and unapologetic embodiment of upper-class white exceptionality and manly omnipotence."
Besides his issues with Brady's endorsement deals, Kusz pointed out that Brady usually maintains friendships with mostly white people off the field, calling the quarterback "a wealthy, white man who unapologetically enjoys, and has even made a habit out of, spending time with other wealthy white men who treasure time 'with the boys' over all others."
Earlier this year, Kusz published a scholarly article in the Journal of Hate Studies titled "'Winning Bigly': Sporting Fantasties of White Male Omnipotence in the Rise of Trump and Alt Right White Supremacy."
Its abstract notes the essay explored "how the Trump candidacy and presidency, the rise of the Alt Right, and the appeal of New England Patriots quarterback, Tom Brady, to his fans who have nicknamed him as the 'Greatest Of All Time' (i.e. The G.O.A.T.), are all linked by 1) the lionization of a particular performance of white masculinity as omnipotent, and 2) a desire to unapologetically revitalize white male privilege and prerogative as the unquestioned norm across American culture."
The scholar's focus on this subject even dates back to 2010, when he authored the scholarly article "Remasculinizing American white guys in/through new millennium American sport film" in the journal Sport in Society. It argued sports movies featuring white men "is the re-centring of white masculinity in post-9/11 American culture and, by extension, refortifying white male privilege in American society," according to its abstract.
Kusz's faculty bio states he is author of "Revolt of The White Athlete – Intersections in Communications and Culture" and an "expert on the intersection between sport, media, and contemporary cultural politics."
This fall he is teaching an English course at the University of Rhode Island called "On the Culture Politics of Man-Boy Narratives" in conjunction with the school's Gender and Women's Studies program.
Read the Campus Reform report here.
MORE: Michigan State ruined Keith Mumphery's NFL career with a false rape finding. It just settled his lawsuit.
IMAGE: YouTube Screenshot
Like The College Fix on Facebook / Follow us on Twitter