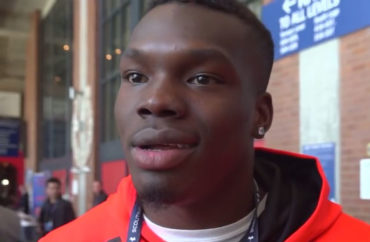 Exonerated him, then convicted him with no notice
Student athletes who might have considered offers from Michigan State University were surely more cautious after seeing how it treats athletes, particularly black males, accused of sexual assault.
After exonerating Keith Mumphery, who was drafted by the Houston Texans, the university accepted an appeal by his accuser and then found him guilty. (She eventually sued MSU.) Rather than making sure he knew the case had been reopened, it emailed him at an address he no longer checked.
The media found out about his guilty finding and 2016 expulsion, and Mumphery – then a graduate student at MSU – got dumped by the Texans and blacklisted by every other NFL team.
He sued the university for violating his Title IX and due process rights, noting MSU failed to follow 6th U.S. Circuit Court of Appeals rules for campus sexual misconduct proceedings.
For some reason, the university took nearly a year to reach a settlement with Mumphery, given its unwinnable case in court. A federal judge approved the settlement Friday. Its terms haven't been disclosed.
The settlement is part of a trend documented by Brooklyn College Prof. KC Johnson, co-author of The Campus Rape Frenzy, who chronicles Title IX litigation: settlements that come before any "substantive decision" in the case. This is the 67th such settlement.
It's worth recounting Mumphery's allegations, not just because they show how accusers may try to trap student athletes who are assumed to have big paydays ahead. They also illustrate how colleges blatantly ignore their legal obligations in order to pacify student activists and the media.
MORE: MSU sued for expelling Mumphery after exonerating him, ruining career
Legally, MSU had no case–its procedures (no hearing w/any form of x-exam) violated not only both Doe v. Baum and Doe v. Cincinnati but also provided no notice to Mumphery. But settling any lawsuit from an acc'd student poses obvious political difficulties for the current MSU adm

— KC Johnson (@kcjohnson9) May 10, 2019
Mumphery had already finished his undergraduate career and was about to start grad school when he met "Jane Roe" on Tinder in November 2014. He returned to campus on "Pro Day," where he reconnected with Roe.
He asked her to dinner, but she pressured him to have sex in her dorm room. They fooled around, with the "clearly sober" Jane taking the lead, until she demanded he have sex without a condom. (Trying to get pregnant with an NFL star's child – sounds about right.) Mumphery refused, and they got in a lengthy argument.
He left her room, saying he was afraid that his white almost-sex partner would call police and he would be treated as police often treat black men. As documented by New York Times reporter Michael Powell last year, it wasn't police or prosecutors who would be his problem (Jane refused to cooperate).
Even MSU did something unthinkable, at first: It investigated and exonerated Mumphery. This is remarkable, as Johnson noted when the ex-player sued, because the university did not exonerate a single student accused of sexual misconduct between 2012 and 2014.
MORE: Liberty U expelled football player for rape hours before he was cleared
Michigan State reopened his case after Jane's appeal – remember, it didn't bother ensuring that he even knew the case was reopened – but didn't collect any new evidence.
Rather, it reinterpreted old evidence in Jane's favor – even removing allegedly "prejudicial information" about Jane while leaving similar in similar information about Mumphery.
Obviously, Mumphery couldn't participate in a proceeding he didn't know was reopened, so he didn't get to make his case in a hearing or cross-examine his accuser – both of which are required for universities under the jurisdiction of the 6th U.S. Circuit Court of Appeals.
Now that this abomination of a public university has stolen two years of Mumphery's NFL career, it's time for the league to take another look at him while he can still play.
MORE: Stanford opened Title IX inquiry against grad based on 8-year-old claims
IMAGE: MSUSpartanAthletics/YouTube
Like The College Fix on Facebook / Follow us on Twitter