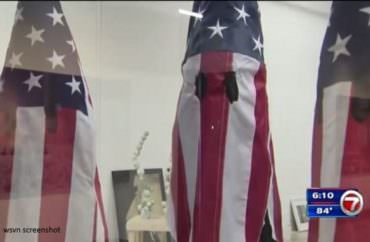 A professor has shaped three American flags into KKK hoods in what she's proudly calling her latest work of art.
Billie Grace Lynn, an associate professor of sculpture at the University of Miami, has dubbed it "American Mask."
"American Mask is a work suggesting that bigotry and racism are hiding behind our American flag," Lynn writes on her personal website. "By using the shape of KKK hoods made from the American flags I point to our sad history of intolerance and violence and hope that the work acts to awaken citizens to the danger of confusing bigotry with patriotism."
The artwork is reportedly on display at a University of Miami gallery, causing controversy.
"Almost as soon as American Mask was placed in the window, arguments began. Miami New Times is located in the same building as the gallery, and an employee posted a picture on Facebook. Dozens of commenters called it everything from 'disgusting' to 'patriotic,'" the Miami New Times reports.
The Times goes on to report that this is not Lynn's first controversial work. She was also the creative mind behind "a dollhouse modeled after the Abu Ghraib prison [with] GI Joe and Barbie figures. … She also once showed a flag that bled."
Patrick Young, who works in the building, told KSVN Miami he is offended by the piece: "This is disgusting. This is disrespectful, and people just don't understand it. I can't see it being a positive message no matter what way you put it."
Lynn said she finds her own artwork offensive, telling KSVN Miami: "I actually find it offensive, to tell you the truth. And when I sew them, when I make them, I find it very disturbing. The piece is my way of trying to challenge people to think."
MORE: 'Ecosexual' professor spurs movement: Have sex with Earth to save it
Like The College Fix on Facebook / Follow us on Twitter