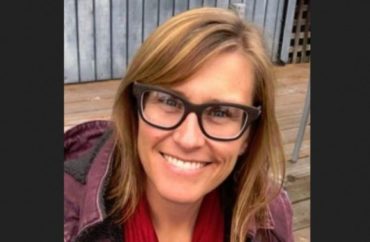 There's a new concern in the relatively new field of so-called "climate anxiety": Those interested in it are very white.
Wired reports this "unbearable whiteness" caused a "growing discomfort" in California State Polytechnic University, Humboldt Professor Sarah Ray (who's white, by the way) early in 2021, so much so that she wrote an op-ed about it.
"[A] year into the pandemic, after the murder of George Floyd and the protests that followed, and the attack on the U.S. Capitol, I am deeply concerned about the racial implications of climate anxiety," Ray (pictured) wrote.
"If people of color are more concerned about climate change than white people, why is the interest in climate anxiety so white? Is climate anxiety a form of white fragility or even racial anxiety?"
Ray says wealthy white people act they're "experiencing an existential threat for the very first time" and "can take up all the oxygen in the room."
In fact, "climate anxiety" itself is a "very privileged" term as affluent whites apparently have a bigger vocabulary to express how it affects them. By contrast, a climate activist had asked Filipinos how they felt after two typhoons had hit the country. Not many talked about it because mental health issues aren't usually a topic of discussion. Thus, "people don't even have the words for it because it's not correlated in people's minds."
MORE: Prof: Climate change is 'white colonization of the atmosphere'
And that's why the way of tackling the mental fallout of the climate crisis is not going to be one-size-fits-all. "There's not necessarily going to be a solution that works uniformly for everybody, including people living in the US and people living in India and people in the Philippines," says [Boston University Professor Amruta] Nori-Sarma.

But [Stanford University's Britt] Wray and Ray reserve optimism that the conversation will continue to evolve—and that it will increasingly recognize and address its own privilege. "One of the things that can happen is we have a much more robust conversation about all of the emotions that people who are actually experiencing climate change are feeling," says Ray. But at the same time, she believes we shouldn't reject climate anxiety as an all-encompassing category for thinking about the mental health impacts of the climate crisis. As a tool for mobilizing people to respond to climate change, "it's actually very effective," she says.
According to her faculty page, Ray's first book "explores the ways that environmental discourse often reinforces existing social hierarchies, drawing on a legacy of nativist, racial, and ableist exclusion in environmental history." She's also edited "Critical Norths: Space, Nature, Theory," "Disability Studies & the Environmental Humanities: Toward an Eco-Crip Theory" and "Latinx Environmentalisms: Place, Justice, and the Decolonial."
MORE: U. California system to launch 'climate justice' course
IMAGE: Sarah Ray / Twitter screencap
Like The College Fix on Facebook / Follow us on Twitter